Atlanta Braves outfielder Ronald Acuña Jr. was caught between two fans who made their way onto the field during Monday's game with the Colorado Rockies.
One fan ran towards the 25-year-old right-fielder, attempting to take a selfie with him during the seventh inning. Shortly thereafter, Coors Field security appeared to be running toward the fan and began trying to remove the fan as he clung tightly to Acuña. Meanwhile, another fan made their way onto the field and approached Acuña and the others. As the second fan neared Acuña, the two fans and security members fell to the ground.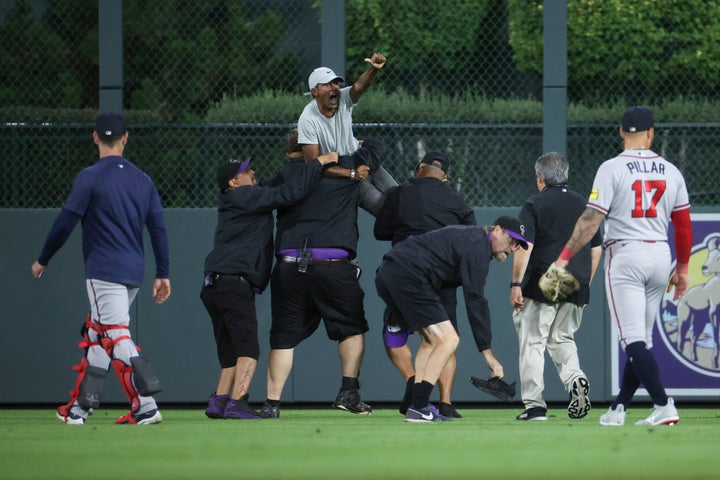 Both fans were detained after the brief altercation, and the Braves beat the Rockies 14-4, CBS Sports reported.
"I was a little scared at first, but I think the fans were out there and asking for a picture," Acuña said by way of a translator, according to The Denver Post. "But security was able to get there, and so I think everything's OK. Everyone's OK."
Acuña, who sports the number 13, said at one point, he thought he saw three of them amid the chaos. "But anyway, the second guy, he was asking for a picture too, and I couldn't say anything to him because at that point, security was already there, and we were already kind of tangled up," he added.
In April, CBS Sports reported a fan received a citation after turning himself in for attacking the Colorado Rockies mascot, a purple dinosaur named Dinger, at the Coors Light Field.
Support HuffPost
The Stakes Have Never Been Higher
Popular in the Community