Since taking office, Biden cast his domestic economic agenda as a repudiation of the free-market economic policies that have dominated since President Ronald Reagan won election in 1980. Reaganomics, with its "trickle-down" upper-income tax cuts, corporate deregulation and anti-labor actions, "failed the middle class, it failed America," Biden said in a June speech. More than any other single event, how Biden handles the UAW strike could determine the political and policy success of his grand agenda.
One of the defining moments of Reagan's presidency and the economic world he created came in August 1981, after the nation's air traffic controllers went on strike — which was technically illegal under their contract — he fired all 11,345 of them and dissolved their union.
Reagan's action not only crushed the public sector union, it sent a message that the hand of government would press down on the scale on the side of management, not labor. It was a hinge point in American history that served a symbolic purpose: "In a sense, the '60s ended in August 1981," conservative columnist George Will wrote.
"That strike defined what the Reagan presidency would be about," said Joseph McCartin, a labor historian at Georgetown University and author of "Collision Course: Ronald Reagan, the Air Traffic Controllers, and the Strike That Changed America."
Now, Biden has the chance with the UAW strike to act in an equal and opposite manner to Reagan. Instead of siding with management, he can side with the workers and pressure the Big Three automakers — General Motors, Ford and Stellantis — to meet their demands. Such an act would give force to his rhetoric and provide the same kind of symbolic force for workers that Reagan's act in 1981 served for employers.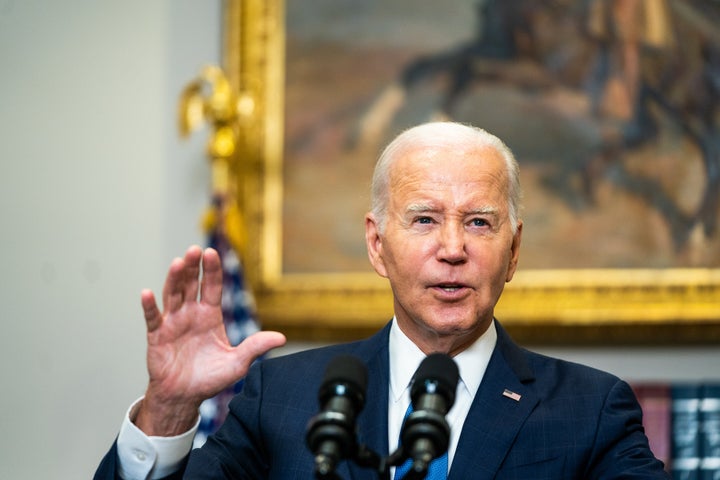 "It used to be said that a strike is bad for Democrats," Nelson Lichtenstein, a labor historian at the University of California-Santa Barbara, who wrote a book about the legendary UAW leader Walter Reuther, told HuffPost ahead of the UAW strike. "I think a strike would be good for Biden. It could give him an exclamation point to some of his rhetoric."
Beyond the obvious implications for the labor movement, properly handling the strike is crucial for Biden because it threatens to cleave his political coalition in two. The signature Democratic Party achievement of the Biden presidency is the Inflation Reduction Act, which included hundreds of billions of dollars in subsidies to accelerate the transition away from fossil fuels and toward renewable energy. That includes funding the construction or conversion of manufacturing plants to build electric vehicles and parts, like batteries, that supply them.
The shift away from the internal combustion engine is a sea change for the automotive industry and its workers. Not only do electric vehicles require fewer parts and, therefore, fewer workers to assemble, but they are often constructed as joint ventures with companies that fall outside of the master contract the UAW holds with the Big Three. This means that workers in the EV industry would not receive the same promises of high wages, health care and other benefits accorded to those working on internal combustion engine models. This isn't the only issue at play in the UAW strike, but it is the most important one.
"This strike will be seen as whether the new emerging EV industry is a unionized industry," McCartin said.
Biden has a lot to gain and a lot to lose in how he responds to this strike. Not only has the UAW not yet endorsed his reelection bid, but some Republicans, including presidential front-runner Donald Trump, are trying to drive a wedge between auto workers and climate activists over the subsidies for the electric vehicle industry. They see an opportunity to cast Democrats' support for climate action as yet another limousine liberal policy aimed at providing upscale cosmopolitans with fancy new toys at the expense of the working man and woman.
Trump, who has sought to pit union members against their leaders, announced that he will speak to UAW members in Detroit on Sept. 27. While Trump's appeal to union members is largely not in support of their strike, his appearance threatens to outflank Biden and foment the narrative that climate policies threaten their jobs. Democrats in the Michigan legislature and Congress have called on Biden to personally appear at a strike line, according to The Washington Post.
"As far as I know Shawn Fain and the UAW have not asked Biden to walk on their picket line, and I doubt they will," McCartin said. "I think they believe Biden can do more good by continuing to hammer the message that record profits for the companies should result in a record contract for the workers and by using his administration's policy levers to ensure that the transition to EV plants creates union jobs, not a race to the bottom."
UAW leader Fain rejected Trump's appeal to members as coming from a member of "the billionaire class" that supports "an economy that enriches people like Donald Trump at the expense of workers." The union is also not opposed to the electric vehicle transition. Instead, Fain has called for a "just transition," providing workers with the same labor rights, high wages and benefits they previously fought for and won.
If Biden wants to make his rhetoric reality, protect the coalition of climate hawks and labor and restore the Democratic Party to its ancestral roots supporting labor unions, he will need to take forceful action on the side of the UAW.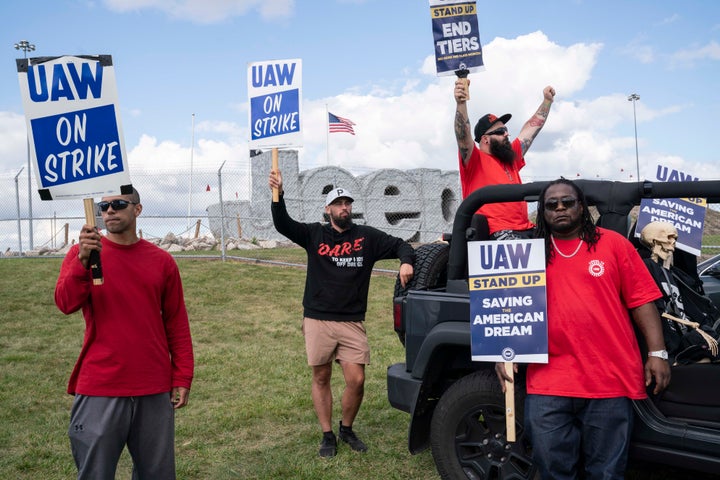 "The president should make it clear … that the demands of the workers are totally reasonable and that the CEOs of the Big Three are choosing an unnecessary conflict," said Faiz Shakir, a former advisor to Sen. Bernie Sanders (I-Vt.) and interim executive director of the American Economic Liberties Project. "The money to pay workers fairly is there — if they have billions for stock buybacks, it's just a choice about what to prioritize. Choose workers."
Biden can act through both "rhetoric and action," according to McCartin. This means stating clearly that he is not just trying to mediate between two equal sides, but that he supports the UAW's demands.
"He should call upon the companies to meet the workers' demands because it's good for the economy if these workers regain some of the share of the wealth that they're generating that they gave up in previous concessionary deals," McCartin said.
On Friday, Biden declared his support for the UAW workers and called for the Big Three to, if not totally meet the UAW's demands, to make a better offer.
"Record corporate profits — which they have — should be shared by record contracts for the UAW," Biden said about the Big Three. "And just as we're building an economy of the future, we need labor agreements for the future."
In August, the administration used the Inflation Reduction Act to support union jobs in the new electric vehicle industry: The Department of Energy released a $15.5 billion grant and loan application on Aug. 31 for electric vehicle and battery plants that gives added weight to submissions that provide high wages, benefits and labor rights. Fain praised the administration for "doing its part to reject the false choice between a good job and a green job."
This announcement "is an important step," McCartin said, "but, really, they need to pressure the industry." That would mean pushing them to ensure that the new EV industry will remain unionized and that workers will get the higher wages they are seeking.
Pressuring the Big Three requires the administration to take a different approach from the way it, and other administrations, have approached strikes over the past 40 years.
"I would like to see a new approach, particularly one that's guided by somebody who has the bona fides of being in the labor camp as a point person for the administration," said Alí Bustamante, deputy director of the Worker Power and Economic Security program at The Roosevelt Institute.
In a phone call on Friday, Bustamante suggested Biden send Acting Labor Secretary Julie Su, a known ally of labor unions, to help with the administration's response, as opposed to Gene Sperling, a former Obama administration official who had been handling discussions between the two sides. Later, Biden announced that he was sending both Sperling and Su to Detroit to "offer their full support for the parties in reaching a contract."
"Biden's decision to include Su in the negotiations is perhaps the most clear indication that he wants the UAW to prevail in negotiations," Bustamante said in an email on Monday.
In his statement, Biden praised unions because they "raise standards across their workplaces and entire industries, pushing up wages and strengthening benefits for everyone."
This gets to where full-throated support for the UAW could act, if the union succeeds, as a reversal of Reagan's firing of the air traffic controllers back in 1981. Reagan's act not only cost over 11,000 people their jobs, it provided a symbol and model for employers across the country to follow.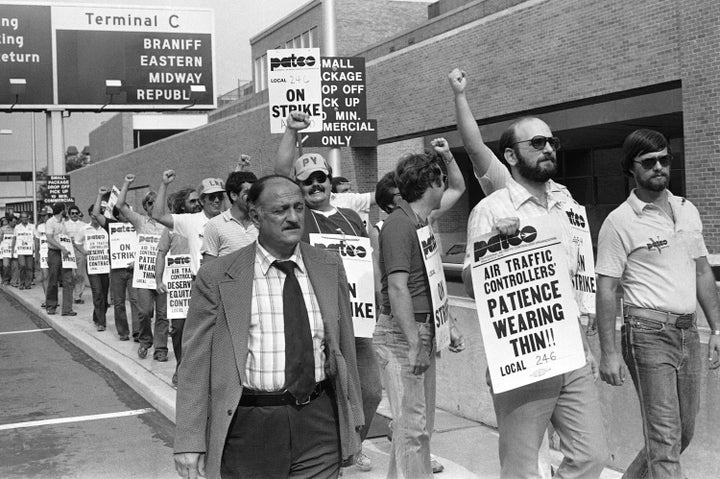 "When Reagan dealt with the air traffic controller situation, the way he did it provided a lot of encouragement to private-sector employers to imitate what Reagan did by breaking strikes," McCartin said.
Companies like Phelps Dodge, Greyhound, Cormel and International Paper followed the president's lead and hired replacements when workers went on strike. By the end of the 1980s, companies were practically egging on their workers' unions to strike so that they could crush them. This led to "a tremendous falling away of the willingness of workers to strike," McCartin said, and a precipitous drop in union density.
It still provides a model for Republicans today.
"I think Ronald Reagan gave us a great example when federal employees decided they were going to strike. He said, you strike, you're fired. Simple concept to me," Sen. Tim Scott (R-S.C.), a presidential candidate, said on Monday.
But the conditions are different today. Reagan took office as Corporate America launched a counter-offensive against years of government regulation and labor unionization. Manufacturing was in decline and workers were losing their leverage. The opposite is true today. The labor market is strong, workers have more leverage to make demands than they've had in decades and new domestic manufacturing industries, like EVs, are emerging. The public is also very sympathetic and supportive of labor unions — a major shift in recent years.
"There's a mirror-image quality to what was going on in '81 — a mirror-image quality of Reagan to Biden," McCartin said.
If the UAW wins here, with the president's backing, it could reverberate across the country just as Reagan's mass firing did. But instead of giving succor to management, it would embolden labor.
"This is an opportunity to kind of reset how employment relations are going forward," Bustamante said.
In 1936, over 7,000 auto workers launched a sit-down strike in Flint, Michigan, demanding General Motors recognize their decision to join the United Auto Workers and negotiate a contract with them. At the time, the UAW was a tiny labor organization active in only a handful of small plants across the country. This was their big push to unionize the entire industry.
GM wanted Gov. Frank Murphy, a Democrat, to break the strike with the National Guard, but Murphy was a labor ally. He called up the National Guard to maintain order and act as a mediating force, but did not use them to break the strikers. Soon after, Roosevelt rejected an appeal by GM to intervene and told the company that it should recognize the union if it wanted to end the strike.
The actions of the governor, the president and the refusal of the strikers to abide by a court injunction left GM with no option. They negotiated with their workers and the auto industry — and the UAW — became what it is today.
Now, Biden has the opportunity to follow FDR's model and reverse Reagan's history. Will he take it?
Dave Jamieson contributed reporting.
Popular in the Community