DALLAS (AP) — Brittney Griner and her Phoenix Mercury teammates were confronted by a "provocateur" at a Dallas airport on Saturday.
The WNBA said in a statement it was looking into the team's run-in with a "social media figure" whose "actions were inappropriate and unfortunate."
"The safety of Brittney Griner and all WNBA players is our top priority," the league said, without specifying what exactly happened.
Before the season started, the league had discussed with Griner's representatives and the Mercury security concerns when the All-Star center traveled for road games after she returned from detainment in Russia. The thought was that the highly publicized case compromised her and others' safety. The league granted Griner permission to book her own charter flights.
The WNBA added charter flights for the playoffs this season, but only a handful of back-to-back regular-season games were scheduled for such flights.
WNBA teams have flown commercially during the regular season since the league's inception in 1997. The league typically doesn't allow teams to charter because it could create a competitive advantage for teams who can afford to pay for them.
"Prior to the season, the WNBA worked together with the Phoenix Mercury and BG's team to ensure her safety during her travel, which included charter flights for WNBA games and assigned security personnel with her at all times," the league's statement reads. "We remain steadfastly committed to the highest standards of security for players."
Mercury player Brianna Turner said in a tweet people at the airport followed the team with cameras "saying wild remarks."
"Excessive harassment," Turner tweeted. "Our team nervously huddled in a corner unsure how to move about. We demand better."
A Twitter user posted a video that appears to show a part of the confrontation where the individual asks questions of Griner about "why she hates America?"
The Bring Our Families Home Campaign, an advocacy group that works to bring home Americans who are held hostage or detained in foreign countries, issued a statement condemning the incident.
"Accosting a recently returned hostage like this is unacceptable, and we urge social media companies to prohibit the monetization of any resulting content. Our Campaign stands with Brittney, her teammates, and the Phoenix Mercury," the organization said.
Griner has been warmly received by crowds at home in Phoenix and on the road. This past week, she played two games in her home state of Texas and the team was headed to Indianapolis to face the Fever on Sunday.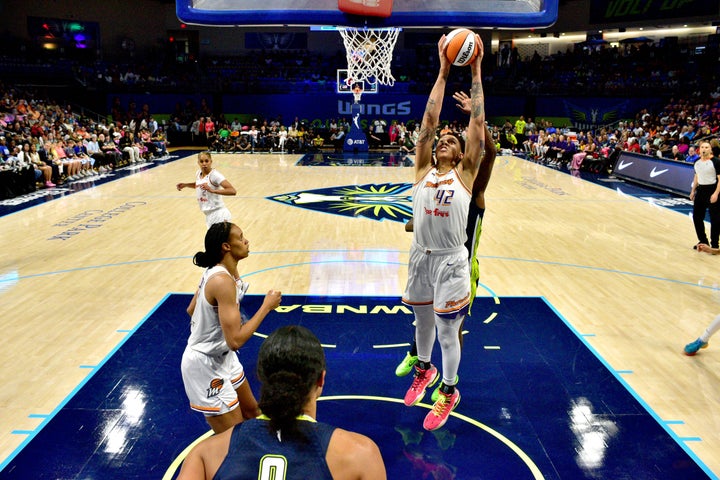 Still, Saturday's incident left many calling for change in flights for the Mercury and teams around the league.
Griner's agent, Lindsay Kagawa Colas, said on social media, after the incident, that she feels that all teams need to charter flights.
"Brittney Griner and the WNBA players are leaders who inspire hope for a better, more inclusive and less divided America," Kagawa Colas said. "They are celebrated for the ways their activism inspires positive change. In doing that, they also become targets for hate, threats and violence. And today's incident is a clear reminder of that. We cannot celebrate these women and their leadership without also protecting them. It's past time for charters and enhanced security measures for all players."
The WNBA players' union issued a statement Saturday, saying the situation at the airport makes it "quite clear that the matter of charter travel is NOT a 'competitive advantage' issue."
"What BG and all of her PHX teammates experienced today was a calculated confrontation that left them feeling very unsafe," the WNBPA statement reads. "Everyone who was paying attention knew this would happen."
The Mercury released a statement saying the team will be working with the league on next steps.
"We are committed to our support of BG and advocating for all American hostages abroad," the team statement reads. "We will continue our support of marginalized communities and fighting the kind of hate that targeted us today. No one, regardless of identity, should ever fear for their safety."
Support HuffPost
The Stakes Have Never Been Higher
Related
Popular in the Community