The month of April might start with jokes and tricks, but these new arrivals to Netflix are for real. The streaming service is due to add more than 100 titles in April, including a number of original movies, shows, comedy specials and more.
On April 6, subscribers will get a new comedy-drama series called "Beef," which stars Ali Wong and Steven Yeun. Created by Lee Sung Jin (who previously wrote for "Dave," "Silicon Valley" and "It's Always Sunny in Philadelphia"), the 10-episode season will follow two strangers who get embroiled in a dark feud after a road rage incident.
Another new show on the docket is "Florida Man," which is set to premiere on April 13. Jason Bateman is an executive producer on the limited series, which tells the story of a struggling, disgraced cop who returns to his home state of Florida for a one-off gig that turns complicated.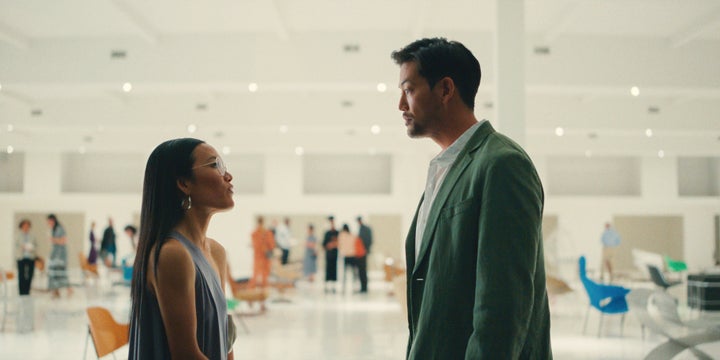 There are a number of Netflix shows also debuting new seasons next month, including "Sweet Tooth" (April 27), "Indian Matchmaking" (April 21) and "Workin' Moms" (April 26). And the sixth and final season of AMC's "Better Call Saul" will finally join the first five on Netflix on April 18.
If you're a comedy fan, you may want to mark your calendar for April 25, when John Mulaney's first stand-up special since 2018's "Kid Gorgeous" premieres. Titled "Baby J," his new comedy set covers Mulaney's experience becoming a parent, his drug relapse and more.
As for movies, the first three films in the "Bourne" franchise will join Netflix on April 1, as will Sam Raimi and Tobey Maguire's "Spider-Man" trilogy. Among the new original movies is the rom-com "A Tourist's Guide to Love" (April 21), which stars Rachael Leigh Cook, Scott Ly and Missi Pyle.
Check out the full list of April movies and shows below.
And if you want to stay informed about everything joining Netflix every week, subscribe to the Streamline newsletter.

April 1
"Born on the Fourth of July"
"Dr. Seuss' The Cat in the Hat"
"Hatfields & McCoys" (Season 1)
"How to Lose a Guy in 10 Days"
"How to Train Your Dragon"
"Smokey and the Bandit II"
"Thomas & Friends: The Mystery of Lookout Mountain"
"Weathering" (Netflix Film)
April 2
"War Sailor" (Netflix Series)
April 3
"Magic Mixies" (Season 1)
"Surviving R. Kelly Part III: The Final Chapter" (Season 1)
April 4
"My Name Is Mo'Nique" (Netflix Comedy)
"The Signing" (Netflix Series)
April 5
"Lewis Capaldi: How I'm Feeling Now" (Netflix Documentary)
April 6
April 7
"Kings of Mulberry Street: Let Love Reign" (Netflix Film)
"Oh Belinda" (Netflix Film)
"Thicker Than Water" (Netflix Series)
"Transatlantic" (Netflix Series)
April 8
April 10
"CoComelon" (Season 8, Netflix Family)
April 11
"All American: Homecoming" (Season 2)
"Leanne Morgan: I'm Every Woman" (Netflix Comedy)
April 12
"American Manhunt: The Boston Marathon Bombing" (Netflix Documentary)
"CELESTE BARBER Fine, thanks" (Netflix Comedy)
"Operation: Nation" (Netflix Film)
"Smother-in-Law" (Season 2, Netflix Series)
April 13
"The Boss Baby: Back in the Crib" (Season 2, Netflix Family)
"Florida Man" (Netflix Series)
"Obsession" (Netflix Series)
April 14
"Phenomena" (Netflix Film)
"Queenmaker" (Netflix Series)
"Queens on the Run" (Netflix Film)
"Seven Kings Must Die" (Netflix Film)
April 15
"Doctor Cha" (Netflix Series)
April 16
"The Nutty Boy" (Part 2, Netflix Family)
April 17
"Oggy Oggy" (Season 2, Netflix Family)
April 18
"Better Call Saul" (Season 6)
"How to Get Rich" (Netflix Documentary)
"Longest Third Date" (Netflix Documentary)
April 19
"Chimp Empire" (Netflix Documentary)
"Mighty Morphin Power Rangers: Once & Always" (Netflix Film)
April 20
"The Diplomat" (Netflix Series)
"Tooth Pari: When Love Bites" (Netflix Series)
April 21
"A Tourist's Guide to Love" (Netflix Film)
"Chokehold" (Netflix Film)
"Indian Matchmaking" (Season 3, Netflix Series)
"One More Time" (Netflix Film)
"Rough Diamonds" (Netflix Series)
April 22
"Ada Twist, Scientist" (Season 4, Netflix Family)
April 25
"The Hateful Eight: Extended Version" (Season 1)
"John Mulaney: Baby J" (Netflix Comedy)
April 26
"The Good Bad Mother" (Netflix Series)
"Kiss, Kiss!" (Netflix Film)
"Love After Music" (Netflix Series)
"Workin' Moms" (Season 7, Netflix Series)
April 27
"Firefly Lane" (Season 2, Part 2, Netflix Series)
"The Matchmaker" (Netflix Film)
"The Nurse" (Netflix Series)
"Sharkdog" (Season 3, Netflix Family)
"Sweet Tooth" (Season 2, Netflix Series)
April 28
"King of Collectibles: The Goldin Touch" (Netflix Series)
Date TBA
"Ex-Addicts Club" (Netflix Series)
"Welcome to Eden" (Season 2, Netflix Series)