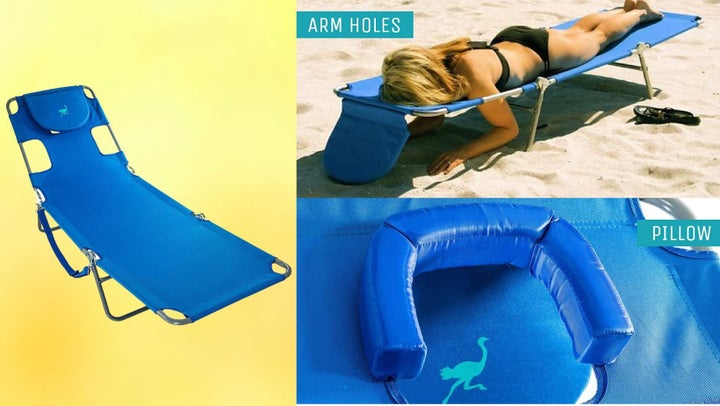 HuffPost may receive a share from purchases made via links on this page. Every item is independently selected by the HuffPost Shopping team. Prices and availability are subject to change.
Anyone who has tried to read a book or scroll through their phone while basking in the sun knows it can be a little tricky to find just the right positioning. At one angle, your neck is strained, at another, the sun is directly in your eye, obscuring your vision. A casual browse through TikTok led me to find this particular solution that I never knew I needed until now: the Ostrich beach lounger.
This lightweight and foldable outdoor chair, which can be conveniently purchased on Amazon, features a pillow-lined hole at the head that's meant to place your face in comfortably. It also has two holes at the side that accommodate your arms so that you can access whatever you have below your face.
"It has completely elevated my comfort level trying to read in the sun," Aiken said. "I don't know if you've ever tried to lie on your stomach comfortably, but for me, it's an endless struggle to position my jaw in a way that doesn't get out of alignment, my neck in a way that doesn't strain, and my sunglasses in a way that don't dig into my temples."
According to her, the Ostrich's design allows you to comfortably rest your head face-down without any of those annoying discomforts.
Another thoughtful touch to this chair is that, what normally functions as a headrest when the chair is in a regular lounging position, folds over to help block the sun from your reading material.
Aiken pointed out that since she bought her chair, the brand has come out with other updated versions, like their camping-style deluxe chair and the 3-in-1 lounger, which Aiken likes because you're able to turn it into a compact chair.
Whatever your fancy, comfortable outdoor lounging is totally available for a little over $60 when you click the link above. Or, keep reading to see what others have to say about this clever and functional chair.
Promising Amazon reviews:
"I've had SO MANY beach chairs and I can say this one is definitely my favorite. VERY sturdy with nice material that doesn't stretch out when you lay in it and can I just say the padded face area for laying on your stomach is AWESOME! Definitely a good buy and I can see myself using this for a good long while! Can't wait to take it to the beach next month!" — Brandy

"I got so many questions/compliments on [this] from strangers! It's versatile, lightweight, comfortable and easy to fold up/carry. I was looking at getting other versions of ostrich brand chairs, but I'm sooooo glad I landed on this one because the full body leg rest is an absolute game changer. It's basically an entire bed/cot you can sleep on the beach, and who doesn't want that?!" — Ashlyn

"I really don't know why I never bought one of these before. I have always hated laying on my stomach in the sun. This is perfect. Easy to use phone or read a book." — Target Lover
Before You Go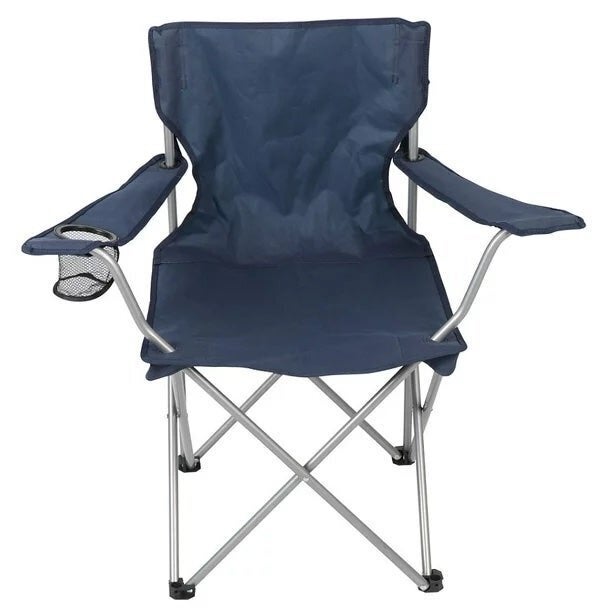 These Highly Rated Camping Chairs Are All Insanely Comfortable
Popular in the Community