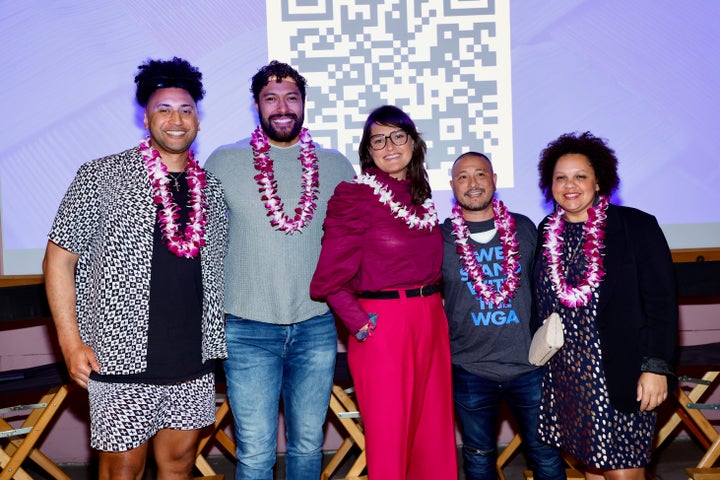 LOS ANGELES — The Pasifika Entertainment Advancement Komiti, or PEAK, kicked off its first in-person event to a full house in downtown Los Angeles last week with a panel discussion on the future of Pasifika storytelling.
PEAK is a nonprofit organization whose mission is to "redefine and expand Pasifika entertainment" and inspire Pacific Islander creatives to "thrive, evolve and drive innovative storytelling that honors the richness and diversity across Melanesia, Micronesia, and Polynesia."
"We want to be able to tell all kinds of stories, all kinds of ways, all sorts of genres," filmmaker Kerry Warkia told a crowd of people at the May 4 event when asked what Pasifika storytelling meant to her. "We want the whole spectrum."
Warkia, who is Papua New Guinean, was joined by the organization's Samoan co-founder and writer Dana Ledoux Miller, Tongan actor Uli Latukefu and Chamorro writer Freddie Gutierrez. The conversation was moderated by Samoan PEAK co-founder Kristian Fanene Schmidt.
"We want to be able to walk into all sorts of rooms, partner with whoever we want to partner with and tell our stories. And yes, we want those stories to have integrity, and we want them to be authentic to us," Warkia continued. "I think it's about us not feeling like we have been locked out of storytelling, not feeling like we have ridiculous standards that are set by people who don't even come from our communities. I think that's what it is to me, to be able to kind of embrace the spectrum of storytelling of our humanity and to be able to dive into that in whatever way we want to tell that."
Latukefu, who portrays college-aged Dwayne Johnson on the NBC series "Young Rock," chimed in to share his own perspective: "It feels like the imagination — our imagination as specific people — is limited at the moment. And what I would like to see is a level of excellence and a standard that people gravitate to toward us, just as they do with the Black community [and] just as they do with the Latinx community. We have a very distinct lens that deserves to be shared."
Board member Averie Joy Maikalima O Makua Huffine elaborated on PEAK's mission, saying the group aims to be a resource for Pacific Islanders looking to break into entertainment.
"Something that we are trying to do is figure out how we can put ourselves out there as a resource for young creatives trying to get into the business, who might want to go into producing or development or be on the studio executive side, which we definitely need," she said. "We've been told our whole lives to not take up space to not be noticed. [And] I think it's time to take up that space and tell those stories."
While Pasifika storytelling remained at the forefront of the conversation for the night, HuffPost spoke with panelists before the event about the power of representation.
Gutierrez, who has written for "Santiago of the Seas" and "That Girl Lay Lay" on Nickelodeon, said only recently have others acknowledged that he is part of the Pacific Islander community.
"Now, because of people like Taika [Waititi], Dwayne [Johnson], Jason Momoa, and others, they're showing the world that we have great stories to tell, that we can tell great stories, and it seems like the world is really taking to it," Gutierrez said. "And so I'm really excited for that."
Ledoux Miller, who was a showrunner on Netflix's "Thai Cave Rescue," also shared her hopes for the future of Pasifika representation and storytelling.
"I want us to have major television shows that are written and produced and crewed by our people so that the lens is always centered around what is important to us. And I think that that kind of specificity is incredible."
"I want us to have major television shows that are written and produced and crewed by our people so that the lens is always centered around what is important to us. And I think that that kind of specificity is incredible," she said. "There are so many shows that go to places that we're from: They film in Fiji, they film in Samoa, they film in Hawaii, and they don't have us either at the forefront of their storytelling or even taking part in the stories. And I'm done with that. We need to take up space and be the one leading the charge. And I think we're on the cusp of that."
The topic of representation feels particularly poignant at the start of AAPI Heritage Month, as many Pacific Islanders feel underrepresented during a time intended to honor both the Asian American and Pacific Islander communities. When asked during the panel whether or not "AA" and "PI" should be separated, Gutierrez shared his personal experience with Pacific Islander erasure just a day prior.
"With the strike going on, we had a big meeting last night for the WGA," Gutierrez said. TV and film writers are currently on strike over pay and working conditions. "One Asian writer came up to the mic and said, 'I'm an Asian writer, and this is Asian American month.' And I yelled out, 'What about the PIs?' And everybody just looked at me and she just kept going. I think that that kind of sums it up in the sense that I think for us, a lot of times we include the AAs, but it doesn't feel like they include us a lot. It feels like we're always left out."
Just a few days before, a similar incident happened at the White House Forum on Asian Americans, Native Hawaiians and Pacific Islanders in Washington, D.C., when co-host Jeannie Mai Jenkins failed to acknowledge the Pacific Islander community in her opening remarks. She encouraged the crowd to use the hashtag #AsianHeritageMonth rather than the White House's official hashtags #visibletogether and #AANHPIHM (Asian American Native Hawaiian Pacific Islander Heritage Month).
"There are a lot of amazing AAPI organizations and groups that are very much fighting the good fight," Ledoux Miller said. "We're all fighting for ourselves and for the people that we know and to have a little piece of the pie. I feel like the AAPI moniker almost pits us against each other. My hesitation in separating from AAPI isn't because I don't feel like we should have our own space. But there's politics, there's money and we want some of that money, and we deserve some of that money so that we can further our own programs."
So, where do we go from here?
"This is the beginning of something," Ledoux Miller said. "Let's find out what works for us and how we can change things for the better for our community."