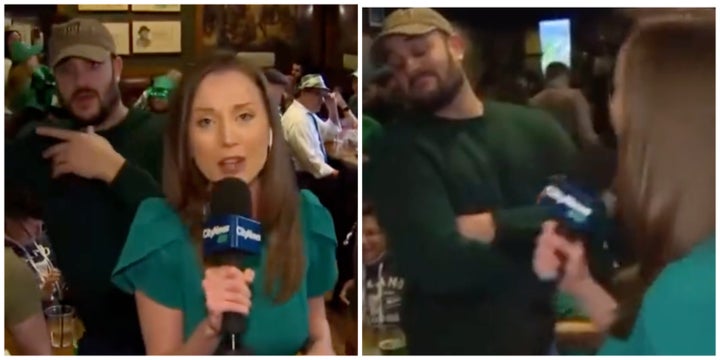 A man celebrating St. Patrick's Day proved to be less appealing than green beer.
Michelle Mackey, a reporter with CityNews Toronto, was filming a live segment at a local bar called McVeigh's Irish Pub on Friday when a man thought it'd be real cute to stand behind her and make a sexual hand gesture.
The gesture, known colloquially as "the shocker," consists of extending one's pinky, pointer and middle fingers while holding down the ring finger.
Some Twitter users came to the man's defense by saying that kind of behavior is to be expected in a bar on a drinking holiday, or tried to downplay the harassment by pointing out it wasn't a physical assault. Some even suggested the man actually might have been making a different, more innocent gesture.
But the man did stick his pinky lasciviously in his mouth multiple times during the broadcast, suggesting that he was intentionally being lewd.
"I don't care that he's drunk," Laura Matte, a producer at CityNews, tweeted Monday with a video of the unfortunate segment (above). "@michellemackey should be able to report live without having to put up with this."
In another tweet, Matte called on her followers to identify the man: "Anyone know this guy and care to ask him to explain harassing @michellemackey while she's live on air?"
But it seems that Mackey got the opportunity to put the man in his place. The reporter posted a video to her own Twitter account showing that the man attempted to make the gesture again later on in the broadcast.
In this video, Mackey can be heard telling the man "You've had your time, off you go!"
In another tweet, Mackey opened up about how she felt about the experience.
"I wasn't aware of what was happening behind me but watching the video back I feel so violated," she wrote. "Shocking that people would still pull this on live TV. Everyone can see you doing this, your parents, your employer... Felt good to tell him off on live TV when he tried it again."
Many on Twitter praised Mackey for how she handled the situation.
It doesn't seem like Mackey is a stranger to the challenges of her job. In December, she posted on Instagram about interviewing people on the street for a segment.
"Trying to get random people to talk on camera about a subject affecting their community is one of the hardest challenges of reporting," she wrote at the time. "You have to literally approach strangers on the street and ask them to do something most people find super nerve wracking. Unsurprisingly, the answer is usually a hard no. But you have no choice but to suck up your pride and keep trying, and when you get a good streeter interview there is nothing more rewarding."
Popular in the Community