Earlier this year, Richard "Bigo" Barnett was convicted on eight counts related to his role in the Capitol riot, including civil disorder, obstruction of an official proceeding and theft of government property.
In a Washington courtroom Wednesday, Judge Christopher Cooper ordered him to serve 4.5 years behind bars, saying that Barnett had "not shown any acceptance of responsibility."
Federal prosecutors had asked Cooper to give Barnett more than seven years for his actions, while Barnett's lawyers had requested a six-month sentence. His attorneys claimed that the 63-year-old retired firefighter and bull rider had traveled to Washington only "to peacefully protest" but was "unfortunately caught up in the events" of Jan. 6, according to NBC News.
During the riot, Barnett entered Pelosi's office and posed for a photo with his foot on a desk in the speaker's office. Later, he bragged about swiping an envelope before leaving, according to the BBC.
Officials said he had carried a stun gun that could have harmed the California Democrat.
"I thought, 'You are a pathetic creature, Mister, if you think that you're exerting your manhood by putting your feet on my desk,'" she said at the time.
During Wednesday's sentencing hearing, Barnett told the court that he was "not proud" of his behavior during the riot but asserted that it was not "threatening."
"They want me to be remorseful for things I did not do," he said, adding that he plans to appeal his convictions and feels he deserves only probation.
"Jan. 6 was a traumatic day for everyone," he added. "I admit I was angry and I apologize for that."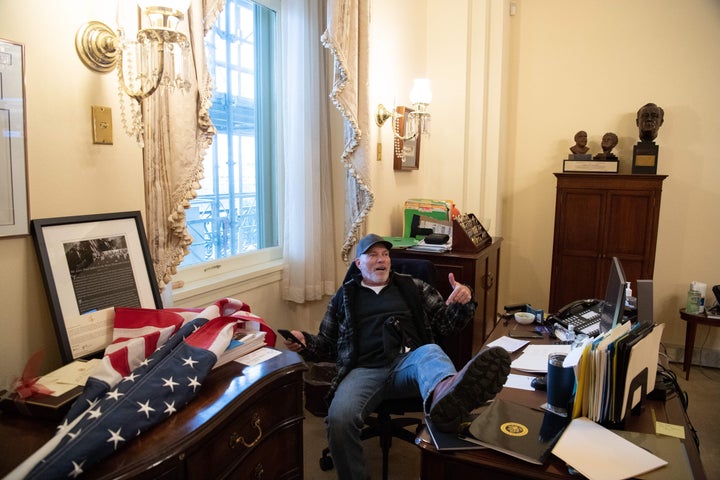 CLARIFICATION: An earlier version of this article said Barnett had propped his foot on Pelosi's desk on Jan. 6, 2021. It was a desk in the House speaker's office.
Popular in the Community