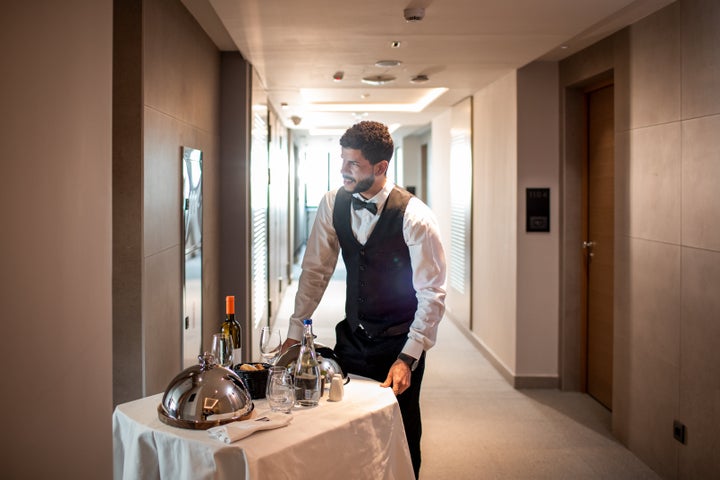 Melted ice cream. Diet water. Cockle popcorn.
Apparently, these are all things that people have tried to order from hotel room service.
Hotels.com's inaugural "Room Service Report" reveals some of the most unusual requests from guests, as shared by hotel staff members. The booking platform conducted a survey among 473 hotels in 10 countries in April to assess the state of in-room dining these days.
The list of the top 10 oddest requests also includes boiled bottled water and a fish that a guest caught and wanted cooked to order. Here's the survey's complete list:
Diet water.

Melted ice cream.

Blowfish.

Boiled bottled water.

A cooked fish that the guest brought with them.

Cockle popcorn.

No-egg-white omelette.

Rice bowl for a dog.

Bison.

Eggless eggs in hell (shakshuka).
Looking beyond strange requests, the report finds that burgers are the most popular room service order, both in the United States and across all the other countries included in the survey.
"Whether it's a treat-yourself moment or must-have after a long day of sightseeing, room service holds a special place in the hearts and stomachs of hotel guests," Melanie Fish, a Hotels.com spokesperson, wrote to HuffPost. "There's a comfort to dining in, which is probably why burgers top the list of most popular room service orders not just in the U.S. but also globally, beating out pizza, club sandwiches, tacos and fries."
The report notes that 45% of U.S. hotels say demand for room service is rising, with 27% saying their guests splurge and spend an average of more than $100 for the amenity. Hotels.com also spotlighted certain properties that go all-out with this in-room experience.
"Room service is not just about burgers or food," Fish said. "Some hotels are kicking it up a notch with non-food room service offerings like The Milestone Hotel in London, U.K. ― where guests can treat themselves to a world class musical performance with an in-room concert from the Royal Philharmonic Orchestra. Also, the DogHouse Columbus Hotel in Ohio features in-room beer taps and a mini fridge in the bathroom stocked with 'shower beer.'"
Another domestic property ― The Post Oak Hotel in Houston ― sells a $1,600 "Black Gold Burger," which is made with 16 ounces of wagyu beef, seared foie gras and black truffle in a caviar-infused black and 24-karat gold brioche bun.
Perhaps that type of extravagance will make you feel a little better about adding a couple of normal room service orders to your next hotel stay.
Support HuffPost
A No-B.S. Guide To Life
Popular in the Community