NEW YORK (AP) — The WNBA is working with Brittney Griner and the Phoenix Mercury on travel options including charter flights going forward.
Griner's travel was back in the spotlight last week when the team took a flight to Texas and then Indiana, requiring Griner and her Mercury teammates to go through commercial airports. While going through a Dallas airport last Saturday, the All-Star center who had been detained in Russia for nearly 10 months was harassed by what the WNBA called a "provocateur."
The league doesn't allow teams to use charter flights except for when they have back-to-back games.
Many teams have been using public charter airline JSX. Those flights are allowed by the WNBA with certain protocols in place, including that teams fly on the 30-seat planes using preset routes and times.
The Mercury flew to their first road game in Los Angeles on JSX and took the airline to Dallas. There wasn't a standard flight available on the airline from Dallas to Indianapolis, which was why Griner was on the commercial flight.
Questions remain about who would pay for it if the WNBA allows Griner to fly privately. And also if the league allows Phoenix to use JSX to fly to any of the other 11 cities that teams play in by creating their own flights, how other teams would view that since it would give the Mercury a potential competitive advantage.
The league said Griner's security has been an ongoing concern since before the season began. League officials were talking with Mercury officials and the seven-time All-Star's representatives about how to protect Griner and her teammates following the highly publicized legal case, during which she was jailed in Russia on drug charges before being freed in December in a prisoner exchange.
The league granted Griner permission to book her own charter flights before the season started.
"We're just working with Phoenix to make sure we have a good plan going forward," WNBA Commissioner Cathy Engelbert said Friday on ESPN, "certainly for Brittney and for the rest of the Phoenix Mercury."
The executive director of the WNBA players' union talked to Griner on Thursday and said she was frustrated.
"She said, 'We knew this was going to happen,'" Terri Jackson said. "She said: 'Terri, I read the mail that comes to my locker. It's fan mail, but it's also a lot of hate mail.'"
The Mercury currently are on a two-game road trip to Washington and New York. Griner didn't play in Friday's loss to the Mystics because of a hip injury.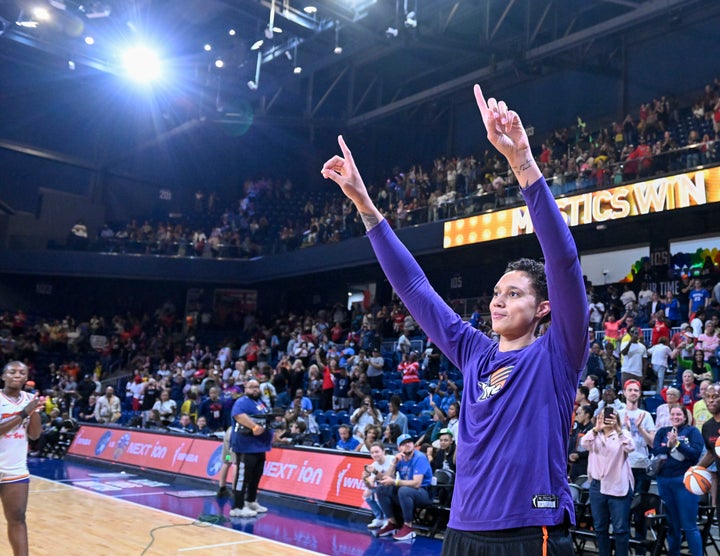 Support HuffPost
The Stakes Have Never Been Higher
Related
Popular in the Community