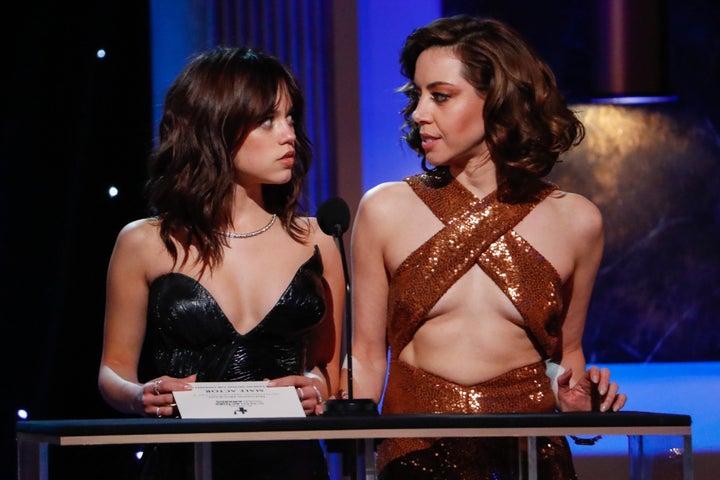 Aubrey Plaza and Jenna Ortega seem like they compliment each other like a headless baby doll and a play school guillotine.
But the two successful Latina actors who derive joy from all things ghoulish didn't seem to understand why the 2023 SAG Awards would team them up to present the award for Outstanding Performance by a Male Actor in a Television Movie or Limited Series.
As the women stood awkwardly beside one another behind a podium Sunday night, Plaza figuratively picked up an ice pick and broke their frosty tension.
"I don't know why they paired us up together," she said as flatly as possible.
"Yeah," Ortega said with zero inflection in her voice. "I know. We have nothing in common."
"We should find the people who did this," Plaza suggested.
"And curse their families and watch as..." Ortega began before Plaza joined her, and they said together: "...misfortune follows their bloodline for the next seven generations."
"OK, I see it now," Plaza finally admitted as it dawned on the two that they're pretty much the same person.
Plaza has long been beloved for her peculiar persona, which derived from her breakout role as the macabre April Ludgate in "Parks and Recreations" (who, fun fact, was a character inspired by Plaza in real life). And she's delighted her fans with stories of her spooky shenanigans behind the scenes ever since.
Ortega, who rose to fame in creepy projects like "You" and the "Scream" franchise, is currently starring as Wednesday Addams in the Netflix series "Wednesday." Like Plaza, she also has a fervor for all things frightening, telling Jimmy Fallon last year: "I don't know what it is about having blood thrown on your face ... but it really is so therapeutic."
"I know, I'm down. We'll just kill everybody with our eyes."
Hey, well, we'd totally see "666 Jump Street" or "Women in Black" any day.
Popular in the Community