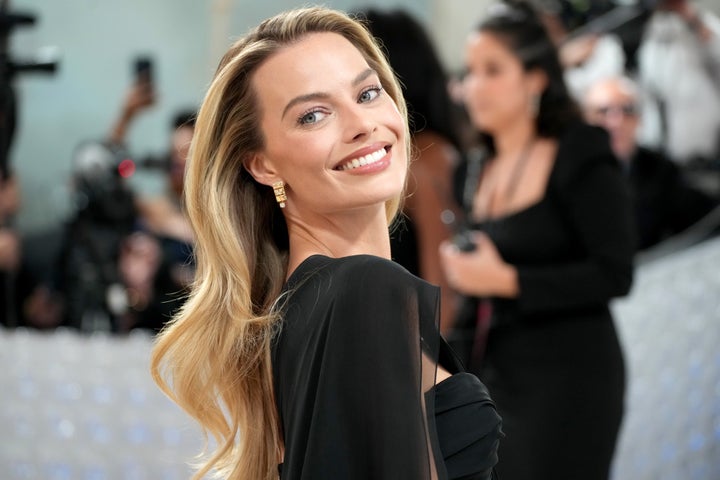 Even Barbie is capable of an existential crisis.
On Thursday, a new trailer for Greta Gerwig's upcoming film about the iconic doll finally revealed the movie's mysterious plot, which unfolds after Barbie (Margot Robbie) verbalizes a deep thought during a lavish dance party at her Dreamhouse: "You guys ever think about dying?"
A toy expressing this very human concern starts creating cracks in the fantastical world that Barbie inhabits. Suddenly, her showers aren't hot anymore, a leap off her roof doesn't feel like it's being safely guided to the ground by a child's hand, and — worst of all — her signature tiptoed feet have gone ... flat.
We know. We know! We'll give you a moment to digest that last detail. (In the meantime, please feel free to to watch this video of puppies tirelessly pursuing a cat for a snuggle. It's going to be OK!)
The "Barbie" trailer suggests that the beloved doll must learn how to live outside of the figurative box and venture into the real world, with Ken (Ryan Gosling) in tow.
And despite earlier reporting that Aqua's 1997 hit "Barbie Girl" would not appear in the film, the end of the trailer includes a brief snippet of the song — or at least a version of it.
According to details on Apple Music, the movie's soundtrack features a track called "Barbie World" from Nicki Minaj, Ice Spice and Aqua. That's an interesting move, considering that Mattel — the company behind the Barbie brand — once filed a lawsuit alleging trademark infringement after "Barbie Girl" was released in the '90s.
"Barbie" is set to hit theaters July 21.
Support HuffPost
The Stakes Have Never Been Higher
Popular in the Community