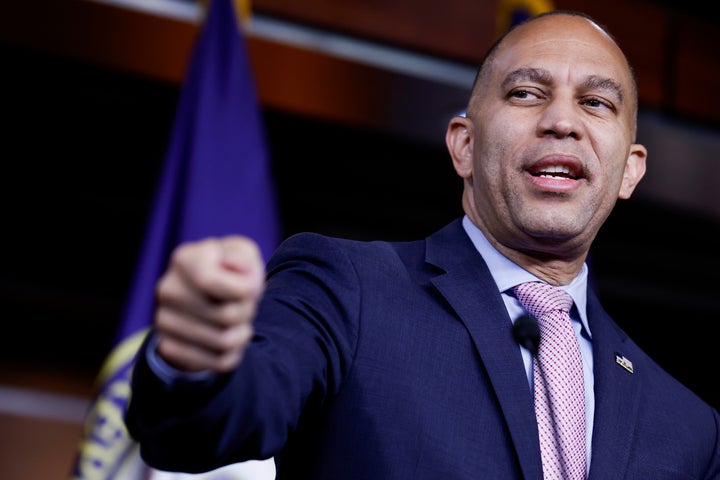 House Democratic Leader Hakeem Jeffries (N.Y.), a staunch ally of the American Israel Public Affairs Committee, or AIPAC, affirmed his support for the reelection bids of progressive Democratic Reps. Ilhan Omar (Minn.) and Jamaal Bowman (N.Y.), whom AIPAC is hoping to oust.
"Leader Hakeem Jeffries intends to continue his practice of supporting the reelection of every single House Democratic incumbent, from the most progressive to the most centrist, and all points in between," Christie Stephenson, Jeffries' spokesperson, said in a statement.
House Democrats' campaign arm, the Democratic Congressional Campaign Committee, did not comment for this story but emphasized its policy of supporting incumbent Democrats regardless of their ideology.
Jeffries has been supportive of Bowman and Omar, bitter AIPAC foes, in the past. His political action committee, the Jobs, Education, and Families First (JEFF) PAC, gave $5,000 each to Bowman, Omar and Rep. Cori Bush (Mo.), who is also a left-wing Israel critic, ahead of their primary races in 2022. JEFF PAC also gave $5,000 to Rep. Summer Lee (D-Pa.) last October during a general election fight in which AIPAC's super PAC spent a significant sum against her.
HuffPost reached out to Jeffries' team about his position because AIPAC is in the process of actively recruiting candidates to run against Omar and Bowman, according to a Jewish Insider report on Aug. 9. Omar and Bowman support imposing stricter conditions on U.S. aid to Israel, a stance that AIPAC sees as a threat to Israel's security. They were also among the progressive lawmakers who declined to attend Israeli President Isaac Herzog's speech to Congress in July.
The same day that the Jewish Insider report came out, AIPAC posted a video of Jeffries from an AIPAC-sponsored trip to Israel in which he extols the "special relationship that exists between the United States and Israel."
Technically speaking, AIPAC uses its main nonprofit arm for lobbying on Capitol Hill and funds its congressional delegation trips to Israel through an affiliated philanthropy, the American Israel Education Foundation.
The pro-Israel group uses separate entities to engage in electioneering. AIPAC uses its political action committee, a separate arm of the organization, to endorse candidates and uses an affiliated super PAC, United Democracy Project, to conduct major spending in competitive elections. It launched both entities in December 2021.
In the 2022 election cycle, United Democracy Project spent about $4 million trying to defeat Lee in the primary and general elections, and quietly spent $350,000 backing Omar's primary challenger. Omar narrowly survived that race.
Despite the apparent difference between the branch of AIPAC that sent Jeffries to Israel and the affiliated groups that get involved in campaigns, HuffPost wanted to get Jeffries on the record about Omar and Bowman, given his passionate opposition to primary challenges on the one hand and his particular contempt for what he calls the "extreme left" on the other.
Ahead of the 2022 elections, Jeffries co-founded Team Blue, a PAC for defending incumbent Democrats against primary challenges. The group endorsed only a handful of incumbents last cycle, all of whom were mainstream Democrats facing left-wing challenges.
HuffPost also inquired about whether Jeffries had spoken with Rep. Dean Phillips, a moderate Minnesota Democrat, about his flirtation with a presidential run and his insistence that President Joe Biden should not seek a second term due to his age. As a co-chair of the House Democratic Policy and Communications Committee (DPCC), Phillips is a member of House Democrats' leadership team.
Stephenson provided a statement to The Hill last Thursday announcing that Jeffries planned to speak to Phillips about the matter.
"Dean Phillips was independently elected to a leadership position in the House Democratic Caucus," she said. "He is ultimately accountable to his House colleagues, who have not been bashful in sharing their views."
On Monday, Stephenson confirmed to HuffPost that Jeffries and Phillips "had a productive, private conversation late last week."
"We have no further comment at this moment," she added.
Support HuffPost
The Stakes Have Never Been Higher
Popular in the Community