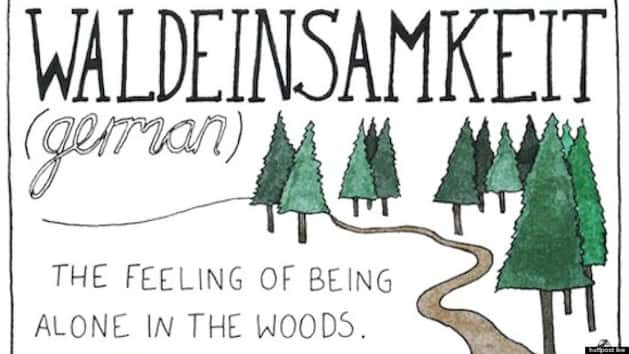 Merriam-Webster started a Twitter thread on Tuesday, and there are no words for just how awesome it was.
The premise was simple: The dictionary publisher simply asked non-English speakers for words in their language that are perfect, but don't translate easily into English.
Non-native English Speakers, what's a word from your language that you think is perfect that doesn't have an English equivalent?

Take us to church.

— Merriam-Webster (@MerriamWebster) February 28, 2023
The results were a veritable cornucopia of words that truly fit every sort of occasion ― some more specifically than you might expect.
Arabic: soubhiyé. That quiet time when you're the only one awake in the house and can enjoy a cup of coffee before the day starts

— Stephanie Saad Thompson (@Stefaniya) February 28, 2023
I love 'sobremesa' in Spanish, which describes that chill time around the table with those you love - normally after you've finished eating, and you're just chatting and connecting. https://t.co/qxrenihO0p

— Natali Simmonds/ N J Simmonds (@NJSimmondsbooks) March 1, 2023
My grandfather would say the Finnish word "sisu." Loosely translated, "stoic determination, tenacity of purpose, grit, bravery, resilience and hardiness," but it's hard to describe in English. You might hate doing a thing, but the thing has to be done, so you will do the thing.

— Gryph (@darkgryphon42) February 28, 2023
Native English speaker but I love the Japanese word tsundoku (積ん読), meaning acquiring books and letting them pile up without reading them.

— Wendell "Still Not on Mastodon" Albright 🌻 (@WendellAlbright) February 28, 2023
Arabic: na'iman نعيماً
Said to someone who recently got a haircut, or right after a shower/bath
An expression meaning somewhat of a blessing or congratulations given post-haircut or post-bath https://t.co/TCUdCwEgH2

— Rima Rassi (@RimaRassi) March 1, 2023
My favorite Tagalog word is "gigil." It describes the overwhelming feeling you get when you see something so cute that you want to eat it. https://t.co/qjW3Bsa2Xx

— Carla Jimenez (@carlam_jimenez) February 28, 2023
Indonesian.

Kami = refers to a group of people that includes the speaker but not the person being spoken to.

Kita = refers to a group of people that includes the speaker & the person being spoken to.

in English, both words are simply referred to as "we".

— mardy bum (@bienavecci) February 28, 2023
Jeito is such a beautiful word and concept. It holds together the whole of Brasilian society, from the everyday to the grand-scale 🇧🇷

It kind of means "a way of accomplishing something beyond the conventional approach", as well as "cunning" (both +ve and -ve connotations) https://t.co/J4P0MxrnWR

— ᴰʳ Khalil Thirlaway (@DrTalksALot) February 28, 2023
uitwaaien: the act of going for a walk, especially when it's windy outside, to gather your thoughts and clear your head. i love this word because it suggests the wind can blow away all the unnecessary stuff in your mind. https://t.co/msatLdv5rj

— mountain biking vampire witch from the future (@estherannaa) February 28, 2023
Oksalayo in isiNguni. When you're arguing with someone and they say oksalayo as a comeback, there's nothing you can do to counter it. You stop talking and move. https://t.co/FRnv6NmSvE

— Magaye kaDubandlela (@Magayye) February 28, 2023
Popular in the Community