VILNIUS, Lithuania (AP) — NATO opened its summit Tuesday with fresh momentum after Turkey withdrew its objections to Sweden joining the alliance, a step toward the unity that Western leaders have been eager to demonstrate in the face of Russia's invasion of Ukraine.
The decision by Turkish President Recep Tayyip Erdogan is a significant move toward Sweden's membership and it will alleviate tension in Vilnius, Lithuania's capital. The deal was reached after days of intensive meetings, and it's poised to expand the alliance's strength in Northern Europe.
"Rumors of the death of NATO's unity were greatly exaggerated," Jake Sullivan, the U.S. national security adviser, told reporters triumphantly on Tuesday.
As part of the deal, Erdogan said he would ask Turkey's parliament to approve Sweden joining NATO. Hungarian Prime Minister Viktor Orban, another holdout, is expected to take a similar step.
The outcome is a victory for President Joe Biden as well, who has touted NATO's expansion as an example of how Russia's invasion of Ukraine has backfired on Moscow. Finland has already become the 31st member of the alliance, and Sweden is on deck to become the 32nd. Both Nordic countries were historically nonaligned until the war increased fears of Russian aggression.
Because of the deal on Sweden's membership, "this summit is already historic before it has started," NATO Secretary-General Jens Stoltenberg said.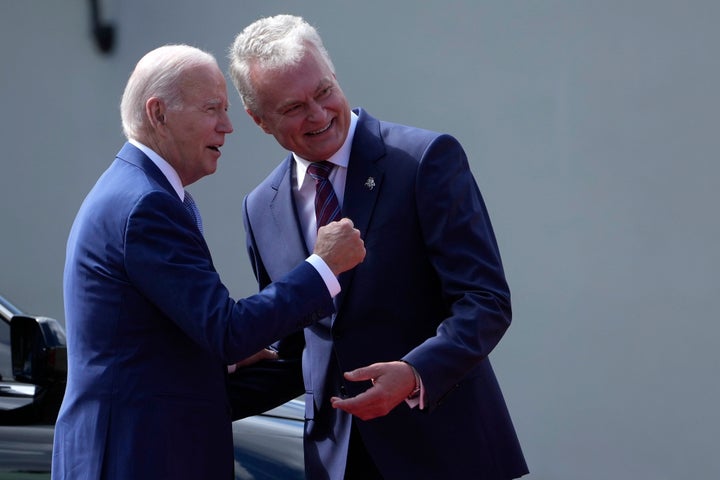 Biden expressed confidence in Sweden's path to finalizing its NATO membership as he met Tuesday with Lithuanian President Gitanas Nauseda. Biden also emphasized his commitment to transatlantic cooperation.
"Nothing happens here that doesn't affect us," he told Nauseda. During the meeting, Nauseda presented Biden with the Order of Vytautas the Great, the White House said. It's the highest award a Lithuanian president can bestow and Biden is the first U.S. president to receive it.
Biden and Erdogan were scheduled to meet Tuesday evening, and it was unclear how some of the Turkish president's other demands will be resolved. He has been seeking advanced American fighter jets and a path toward membership in the European Union. The White House has expressed support for both, but publicly insisted that the issues were not related to Sweden's membership in NATO.
"I stand ready to work with President Erdogan and Turkey on enhancing defense and deterrence in the Euro-Atlantic area," Biden said in a statement late Monday.
The phrasing was a nod to Biden's commitment to help Turkey acquire new F-16 fighter jets, according to an administration official who was not authorized to comment publicly.
The Biden administration has backed Turkey's desire to buy 40 new F-16s as well as modernization kits from the U.S. It's a move some in Congress, most notably Senate Foreign Relations Committee Chairman Bob Menendez, D-N.J, have opposed over Turkey blocking NATO membership for Sweden, its human rights record and other concerns.
In Washington, Menendez said he was "continuing to have my reservations" on providing the fighter aircraft to Turkey. If the Biden administration could show that Turkey wouldn't use the F-16s belligerently against other NATO members, particularly its neighbor Greece, and meet other conditions, "then there may be a way forward," Menendez told reporters.
NATO leaders still have other big questions to address at the two-day summit, particularly Ukraine's desire to join NATO. The Baltic states — including Lithuania, which is hosting the event — have pushed for a strong show of support and a clear pathway toward membership for Ukraine.
The United States and Germany have resisted that, and Biden said last week that Ukraine wasn't ready to join. Members of NATO, he told CNN, need to "meet all the qualifications, from democratization to a whole range of other issues," a nod toward longstanding concerns about governance and corruption in Kyiv.
In addition, some fear that bringing Ukraine into NATO would serve more as a provocation to Russia than as a deterrence against aggression.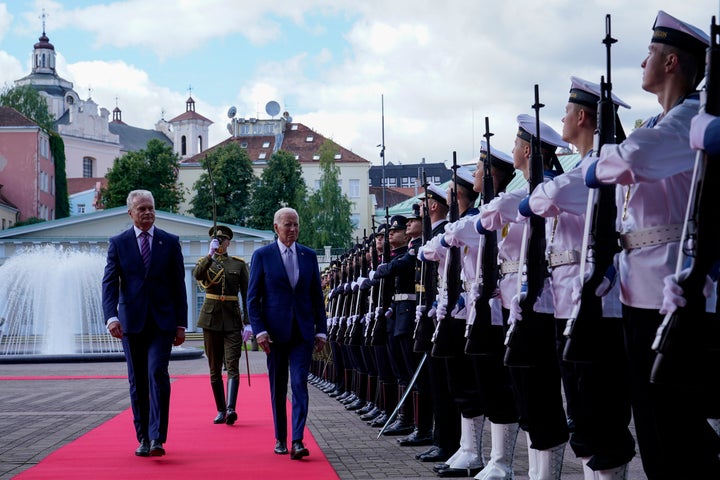 Stoltenberg wrote in Foreign Affairs on Monday that the alliance would "upgrade our political ties" by forming a NATO-Ukraine Council, which would be "a platform for decisions and crisis consultation."
Ukrainian President Volodymyr Zelenskyy is expected to attend the summit on Wednesday and he and Biden were scheduled to meet, Sullivan said.
Stoltenberg reiterated that Ukraine will eventually become a member of NATO, a commitment first made in 2008 under President George W. Bush. The NATO chief did not outline more specifics.
However, Ukrainian Foreign Minister Dmytro Kuleba said NATO had agreed to forgo requiring a "membership action plan," a decision that he said "shortens our path to NATO."
Stoltenberg reiterated that point on Tuesday.
"Ukraine is much closer to NATO so I think the time has come to reflect that in other NATO decisions," he said.
Sullivan said allies were debating the "precise nature" of Ukraine's pathway to membership in the alliance. However, he promised that the summit would demonstrate how Putin's hopes for fractures within NATO will be unfulfilled.
"He has been disappointed at every turn," Sullivan said. "Vilnius will very much disappoint him."
Biden is on a five-day trip to Europe, with the NATO summit as its centerpiece.
The president spent Monday in the United Kingdom, where he met at Windsor Castle with King Charles III for the first time since he ascended to the throne. They discussed mobilizing financial support to combat climate change.
Biden also visited 10 Downing St. in London for talks with Prime Minister Rishi Sunak. It was their sixth meeting, a reflection of close ties between the two countries.
After the NATO summit ends on Wednesday, Biden will travel to Helsinki to celebrate Finland's recent entry into NATO and meet with Nordic leaders.
Associated Press writers Aamer Madhani, Zeke Miller, Lisa Mascaro and Darlene Superville in Washington and Lorne Cook in Vilnius, Lithuania, contributed to this report.
Support HuffPost
The Stakes Have Never Been Higher
Related
Popular in the Community