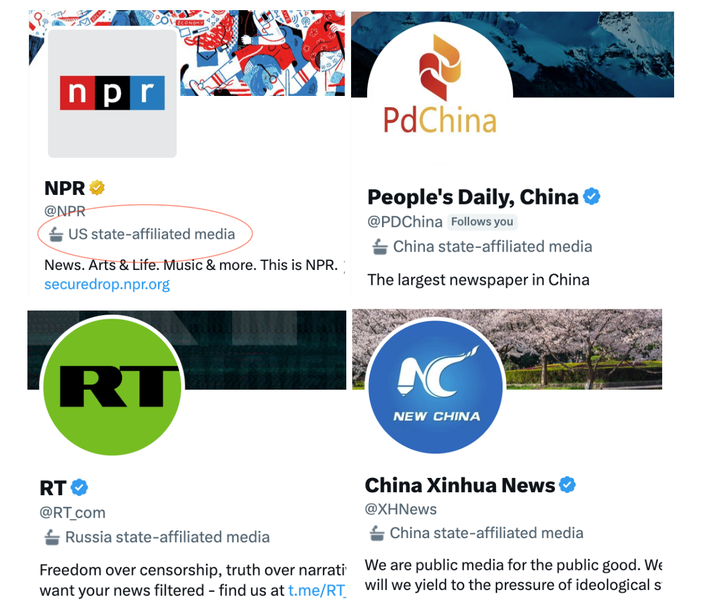 Twitter on Tuesday quietly labeled NPR "state-affiliated media," putting it in line with Russia's RT and China's Xinhua News Agency.
Elon Musk, the social media site's CEO, appeared to directly endorse the designation Wednesday, telling a user who applauded the change that it "seems accurate."
Shortly after his remark, Twitter updated its website's policy on "state-affiliated media" — apparently so that NPR would be included in its labeling.
When Twitter first rolled out the labeling system in 2020, it said the designation was intended for "outlets where the state exercises control over editorial content through financial resources, direct or indirect political pressures, and/or control over production and distribution."
Before updating its policy this week, Twitter had said that "State-financed media organizations with editorial independence, like the BBC in the UK or NPR in the US for example, are not defined as state-affiliated media." After the change, the sentence appears the same but without the phrase "or NPR in the US."
Twitter's policy says that it "will not recommend or amplify" tweets from accounts that have been labeled. The BBC's Twitter account did not have the labeling as of Wednesday morning.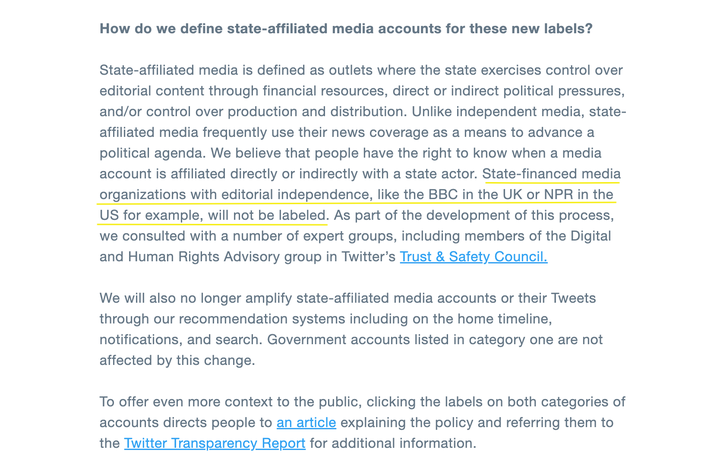 Referring to the previously long-standing policy, an NPR spokesperson told HuffPost that the designation must be "a mistake as it contradicts Twitter's own guidelines." The media outlet said it was reaching out to Twitter to have the label removed.
In a statement shared with HuffPost, NPR President and CEO John Lansing said the outlet was "disturbed" to see the labeling and repeated that it is not in line with Twitter's past policy.
"NPR and our Member stations are supported by millions of listeners who depend on us for the independent, fact-based journalism we provide," Lansing said. "NPR stands for freedom of speech and holding the powerful accountable. It is unacceptable for Twitter to label us this way. A vigorous, vibrant free press is essential to the health of our democracy."
Russian and Chinese organizations are among the outlets that have received the labeling since 2020 for spreading government propaganda.
NPR is a nonprofit media organization. Its greatest amounts of funding come from corporate sponsorships and NPR member organizations that pay fees to host its content. It also collects donations from listeners, including during seasonal pledge drives. Less than 1% of NPR's annual operating budget comes from federal agencies and departments.
Twitter's rules and guidelines have been capriciously changed since Musk's takeover of the company in October. Some of these changes seem to happen on a whim and have targeted the news media.
On Sunday, The New York Times had its verification badge removed from its main Twitter account after Musk called the outlet "propaganda" and likened its Twitter feed to "diarrhea."
Musk suggested that the badge was removed because the outlet refused to pay the monthly fee to keep it, though many other news organizations have retained their badge despite publicly saying they won't pay the fee.
Twitter laid off its entire media relations team following Musk's takeover, and the company now only responds to emailed requests for comment with poop emoji.
Support HuffPost
The Stakes Have Never Been Higher
Popular in the Community