KYIV, Ukraine (AP) — Russia launched a massive barrage of missiles and drones that hit residential buildings and critical infrastructure across Ukraine on Thursday, killing six people and leaving hundreds of thousands without heat or electricity.
The largest such attack in three weeks also put Europe's largest nuclear plant at risk by knocking it off the power grid for hours before it was reconnected. Nuclear plants need constant power to run cooling systems and avoid a meltdown, and the latest threat to the Zaporizhzhia Nuclear Power Plant once again raised the specter of a nuclear catastrophe
Air raid sirens wailed through the night, as the attacks targeted a wide swath of the country, including in western Ukraine, which is far from the front lines. President Volodymyr Zelenskyy said the assault that came while many people slept was an attempt by Moscow "to intimidate Ukrainians again."
The Russian Defense Ministry said the strikes were in retaliation for a recent incursion into the Bryansk region of western Russia by what Moscow claimed were Ukrainian saboteurs. Ukraine denied the claim and warned that Moscow could use the allegations to justify stepping up its own assaults.
The war has largely ground to a stalemate on the battlefield over the winter. The Kremlin's forces started targeting Ukraine's power supply last October in an apparent attempt to demoralize the civilian population and compel Kyiv to negotiate peace on Moscow's terms. The attacks later became less frequent, with analysts speculating Russia may have been running low on ammunition. The last major bombardment took place on Feb. 16.
Overall, Russia launched 81 missiles and eight exploding Iranian-made Shahed drones Thursday, according to Ukraine's chief commander of the armed forces, Valerii Zaluzhnyi. Thirty-four missiles were intercepted, as were four drones, he said. The mixture of munitions makes it harder for air defenses to cope with the onslaught, military analysts say.
Among the weapons were six hypersonic Kinzhal cruise missiles, which are among the most sophisticated weapons in the Russian arsenal, Ukrainian air force spokesman Yurii Ihnat said. Ukraine says it doesn't have air defenses that can intercept them.
The Russian Defense Ministry said the barrage hit military and industrial targets in Ukraine "as well as the energy facilities that supply them."
The missile strikes won't take any toll on the army's combat capability, but are "playing on the nerves of the civilian population of Ukraine," Ukrainian military analyst Oleh Zhdanov told The Associated Press.
Nearly half of households in Kyiv were without heat, as were many in Kharkiv, Ukraine's second-largest city, where the water was also cut on a day the low was expected to be around freezing, according to local officials.
Around 150,000 households were left without power in Ukraine's northwestern Zhytomyr region. In the southern port of Odesa, emergency blackouts occurred due to damaged power lines.
Viktor Bukhta, a 57-year-old resident of Kyiv's Sviatoshynski district, where officials said three people were wounded, said a missile landed nearby in the early morning.
"We went into the yard. People were injured," he said. "Then the cars caught fire. We tried to extinguish them with car fire extinguishers. And I got a little burned."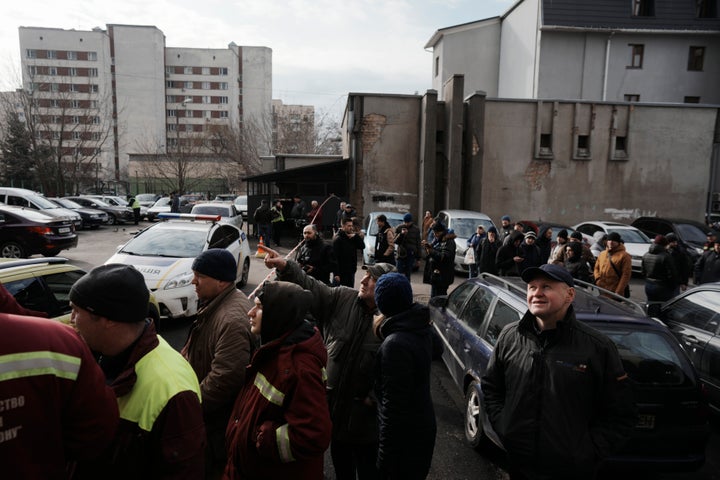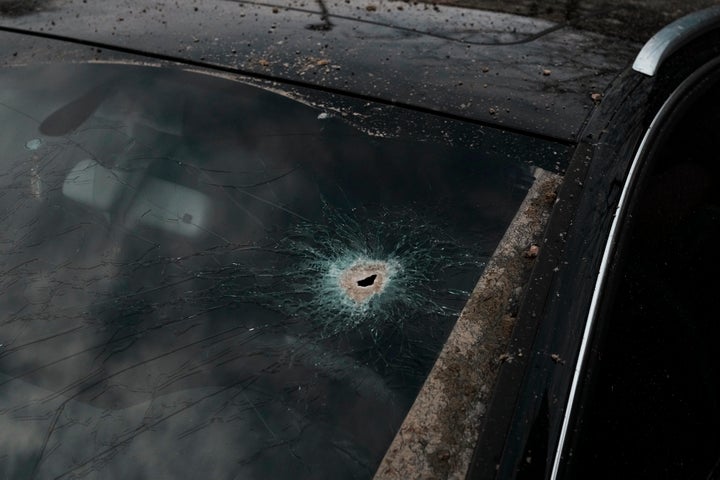 The head of the U.N. nuclear watchdog said he was "astonished by the complacency" of members of the organization he leads, the International Atomic Energy Agency, in relation to the dangers faced by the Zaporizhzhia Nuclear Power Plant.
"What are we doing to prevent this happening? We are the IAEA, we are meant to care about nuclear safety," Director-General Rafael Mariano Grossi told its board of directors in a meeting Thursday, according to a statement from the organization.
"Each time we are rolling a dice," he said. "And if we allow this to continue time after time, then one day our luck will run out."
The agency has placed teams of experts at all four of Ukraine's nuclear power plants to reduce the risk of severe accidents.
Ukrainian Foreign Minister Dmytro Kuleba was scathing about the Russian attack, tweeting: "No military objective, just Russian barbarism."
Kyiv's city administration said the capital was attacked with both missiles and exploding drones. Many were intercepted, but its energy infrastructure was hit.
Smoke could be seen rising from a facility in Kyiv's Holosiivskyi district and police had cordoned off all roads leading to it.
Three men and two women were killed in the western region of Lviv after a missile struck a residential area, Gov. Maksym Kozytskyi said. Three buildings were destroyed by fire, and rescue workers were combing through rubble looking for more possible victims, he said.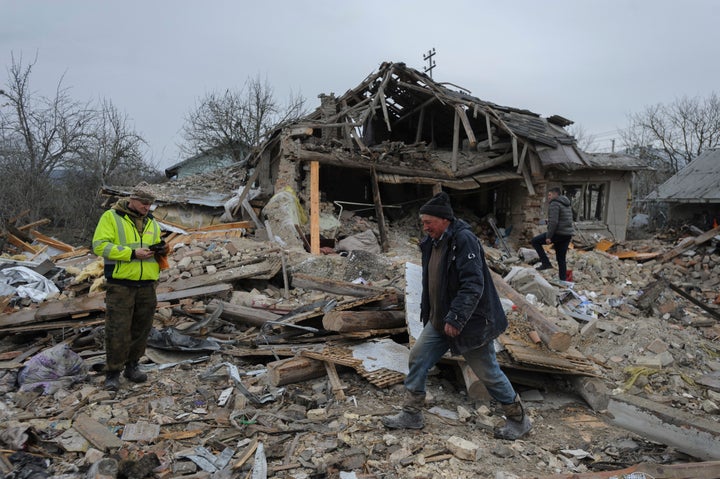 A sixth person was killed and two others wounded in multiple strikes in the Dnipropetrovsk region that targeted its energy infrastructure and industrial facilities, Gov. Serhii Lysak said.
Aside from the hail of missiles, Russian shelling killed six other civilians from Wednesday to Thursday, Ukrainian officials said, including three people at a bus stop in Kherson.
Follow AP's coverage of the war in Ukraine: https://apnews.com/hub/russia-ukraine
Popular in the Community