Now-fired Hunter College art professor Shellyne Rodriguez held a machete to the neck of a New York Post reporter who attempted to interview her, the tabloid reported Tuesday. (Watch the video below.)
"Get the fuck away from my door," Rodriguez told reporter Reuven Fenton in Post footage of Rodriguez threatening him with the weapon.
Fenton and a photographer knocked on her door to ask about a recent viral video that showed Rodriguez confronting anti-abortion activists on campus and tossing aside their materials, according to the Post.
The newspaper said Fenton identified himself as a reporter and the situation quickly turned threatening. Rodriguez said she would "chop" him up before she opened the door and brandished the machete, the newspaper reported.
The two beat a hasty retreat but Rodriguez, still carrying the blade, chased them into the street, the Post reported, citing dashcam video. She also kicked Fenton in the shins, the newspaper claimed.
The New York City Police Department told HuffPost on Wednesday there is a complaint on file for menacing and the investigation is ongoing.
"Hunter College strongly condemns the unacceptable actions of Shellyne Rodriguez and has taken immediate action," a spokesperson told the BBC. "Rodriguez has been relieved of her duties at Hunter College effective immediately, and will not be returning to teach at the school."
Rodriguez, whose political art was recently highlighted by The New York Times, set her Instagram account to private. Her contact info appeared to be scrubbed from her website.
She previously sued the NYPD for alleged abuse during a George Floyd protest in 2020, the Post reported later.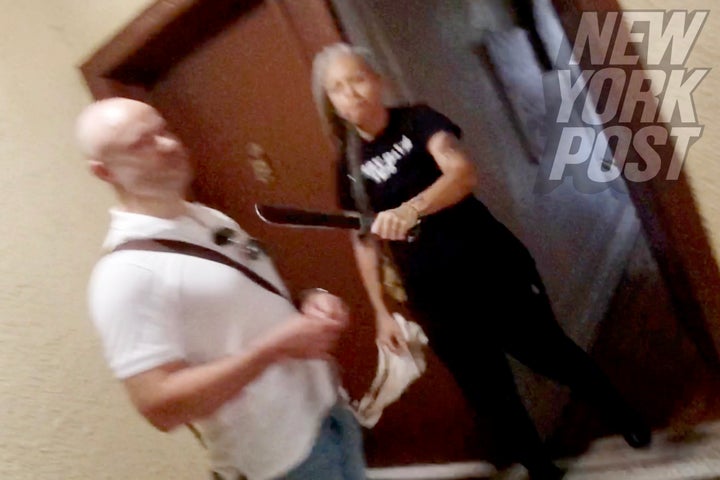 Popular in the Community