The memos, provided by Lee's office as part of a public records request, reveal a rare criticism of the powerful gun lobby made by the Republican governor. Lee has previously praised the NRA's efforts to protect the Second Amendment. But he has since faced opposition from the group as he works to pass gun control legislation in response to a deadly Nashville school shooting that took place in late March.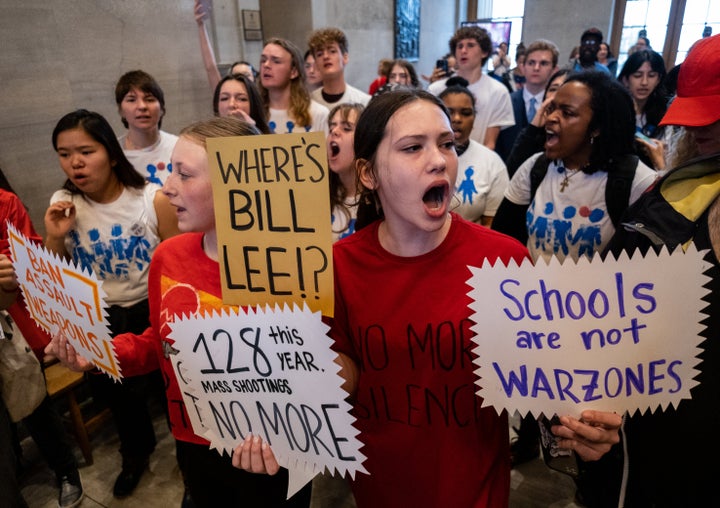 So far, Lee has proposed keeping firearms away from people who could harm themselves or others. He is currently facing pushback from both the GOP-dominant General Assembly and firearms rights advocacy groups, including the NRA, that are wary of increasing gun restrictions in ruby red Tennessee. The NRA's opposition is particularly notable because the group was a crucial player in Lee's successful push in 2021 to pass a law that allows people 21 and older to carry handguns without a permit in Tennessee.
That means Lee has been forced to go on the defensive, arguing that what he has proposed is not, in fact, a so-called red flag law like those adopted by other states in the wake of tragedies. Instead, the talking points show he is attempting to sell his proposal as "the most conservative in the nation" and the best plan for "Second Amendment advocates." He also is taking aim at advocates who want to focus on Tennessee laws that allow committing people without their permission if they pose "a substantial likelihood of serious harm" due to a "mental illness or serious emotional disturbance."
"Not only is the NRA's proposal impractical — it would drastically expand the scope of government," one of the memos reads.
In announcing his plan publicly in April, Lee acknowledged the proponents of involuntary commitment, but did not name the NRA.
"Some advocates of the Second Amendment say something called 'involuntary commitment' is the answer, but that would restrict all kinds of constitutional rights, including the Second Amendment," Lee said at the time. "It's not the best way."
Speaking with reporters on Wednesday, House Speaker Cameron Sexton further lowered expectations that Lee's proposal has a chance to pass, saying he doesn't think he and fellow Republican lawmakers support red-flag-esque laws. He said some other areas of policy could be considered: involuntary commitment, more mental health in-patient beds, better database updating for background checks, a new state-level offense beyond the federal law prohibiting felons from having a certain amount of ammunition, and broadening state law so more types of violent threats could be considered a crime.
"When you look at what the NRA is saying, is you currently have laws on the books — emergency, involuntary commitment," Sexton told The Associated Press on Wednesday. "And so, use what you have."
The documents reviewed by AP show that Lee's administration drafted the talking points in April. They tout the governor's proposal as "more targeted and more limited" than what the NRA currently supports. It's unclear where the memos were circulated or how many people outside Lee's office received them.
In the memo, Lee's office wrote that the NRA's plan "does not get at the heart of the problem, as it fails to address unstable individuals who suffer from mental health issues but do not qualify for involuntary commitment to a facility."
"Gov. Lee believes the best path forward is practical, thoughtful solutions to keep communities safe and protect constitutional rights," his spokesperson, Jade Byers, said in an emailed statement. "He looks forward to speaking with key stakeholders, including the NRA, and working with legislators on proposals in the months ahead."
In an April memo, the NRA's lobbying arm urged its supporters to oppose Lee's plan. The group noted that "Tennessee already has broad civil commitment laws" and added that the state could improve access to emergency mental health services.
Asked about the governor's office talking points about their group, NRA spokesperson Amy Hunter didn't address the claims, saying in a statement that the group is focused on "preserving and advancing the rights of law-abiding gun owners in Tennessee."
Popular in the Community