California was just rocked by two gruesome mass shootings less than 48 hours apart, leaving 11 dead from a shooting at a Monterey Park dance hall on Saturday and seven farmworkers massacred in Half Moon Bay just two days later.
The tragedies are two of 39 mass shootings in the U.S. to take place in the first few weeks of 2023 alone. That figure is higher for this point in the year than for any other on record, according to the Gun Violence Archive, which defines a mass shooting as one that injures or kills at least four people.
Those figures should be the wakeup call Congress needs to pass stricter firearms legislation, Democrats and gun control advocates have said in the wake of the shootings. The "scourge of gun violence across America requires stronger action," President Joe Biden remarked following the Half Moon Bay shooting, calling on Congress to send him a federal assault weapons ban.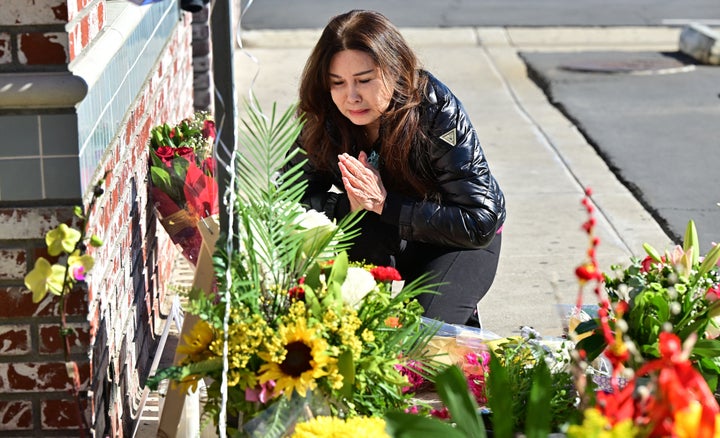 But it's a different story playing across the headlines at Fox News and other conservative media, which have been eager to point out that these two mass shootings took place in the state with the country's strictest gun control legislation. It's in line with the talking point Republicans often roll out after such tragedies ― that shootings in places that have tried to crack down on firearm access, including California and Chicago, are proof such laws don't actually stop gun violence.
Despite stricter gun regulations in California, "apparently that did not work in this situation," House Speaker Kevin McCarthy (R-Calif.) said Tuesday in his first remarks about the shootings.
But it's not that simple.
Though this week's shootings took place in California, the state still has one of the lowest rates of gun deaths in the country ― a statistic that gun control advocates attribute to the state's gun control measures in recent decades. The state's rate of mass shooting deaths is below the national average, too, with Californians being about 25% less likely to die in a mass shooting than the average American.
In Mississippi, Wyoming and Missouri ― three states with some of the country's most lax gun laws ― the rate of firearm deaths is around three times that of California.
"We can't do this alone, and with all due respect, we feel like we are."
But for all California has put in place ― universal background checks, a red flag law, an assault weapons ban ― it still exists in a country with the world's most lenient federal gun rules. It's easy to bring guns across state lines, federal judges citing the Second Amendment have cracked down on some of California's gun restrictions and gun manufacturers have figured out loopholes to skirt the state's regulations and sell weapons very similar to semi-automatic AR-15 rifles in California.
"We can't do this alone, and with all due respect, we feel like we are," California Gov. Gavin Newsom (D) said Tuesday of the state's efforts to limit gun violence.
The gun the Monterey Park shooter used is generally illegal in California. Authorities say they're still trying to piece together the weapon's origins and whether it was purchased legally out of state or illegally from a gun trafficker. Police say they found a semi-automatic handgun in the Half Moon Bay shooter's vehicle and confirmed it was legally purchased and owned.
Republican Rep. Michael McCaul of Texas was among those who dismissed calls for stronger federal firearms restrictions in the wake of the California shootings.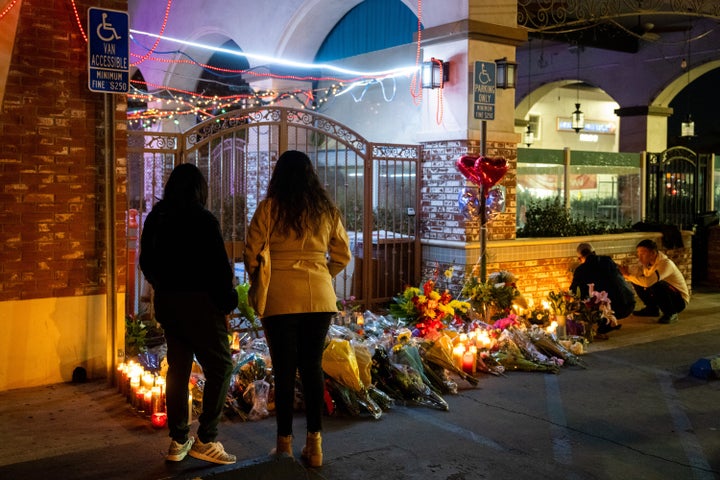 "Chicago has some of the strictest gun laws in the nation yet the highest murder rate," he said on CNN after the Monterey Park shooting ― though that oft-repeated claim is mostly false.
"Every one of these cases ― and I guarantee you're going to see it in this one as well ― the shooter had warning signs along the way. We just didn't respond or pick it up," McCaul continued. He then proposed a bill that would "take public information on the internet, have an algorithm to stop the threat before it happens. That is a smart approach rather than violating Second Amendment rights."
But when McCaul had the chance to support such interventions, he didn't. Like many other Republicans, he voted against last year's Bipartisan Safer Communities Act, which includes federal funding for states' red flag laws ― a program that has already started to see success in California ― stricter background checks and funding for other crisis intervention strategies.
The law passed, but only after Democrats agreed to weakening some of those elements. Though universal background checks are popular with the vast majority of Americans, Republicans would only approve a background check policy that applies to people younger than 21, expires after 10 years and prohibits the use of data from before a person was 16. Republicans also blocked Democrats' red-flag proposal, which would allow gun removal from anyone a federal judge determined to be dangerous.
Support HuffPost
The Stakes Have Never Been Higher
Popular in the Community