A CNN crew deployed in Ukraine was almost hit by a Russian missile on Thursday in what correspondent Frederik Pleitgen described as "a really close call."
Pleitgen, a senior international correspondent for the network, said "the missiles impacted very close by" as the team was reporting in Kramatorsk, Ukraine.
The CNN crew members were making their way to the scene of a residential building that was destroyed after being hit by a Russian projectile overnight, killing at least three people and injuring 21 others, according to The Associated Press.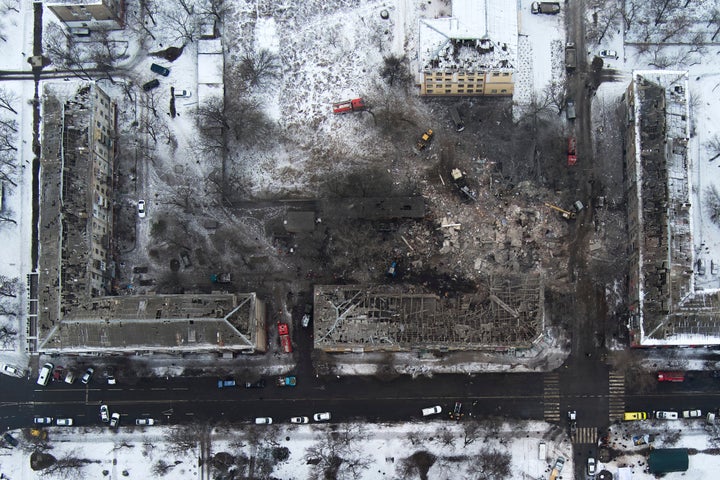 Pleitgen told CNN's Oliver Darcy they were headed toward the scene, where a search and rescue operation was underway, for what they considered a straightforward assignment.
In a separate interview with CNN's Bianna Golodryga, Pleitgen said the team then saw a missile strike the building just in front of where they had parked their car, approximately 40 to 50 yards away from them. It was followed by a second strike soon after.
The team took shelter in a nearby basement with other residents.
Once the scene turned quiet, they went out to shoot some material capturing the damage and then departed shortly after.
CNN reported the missiles were S-300s, which are meant to attack aircraft but have been used in ground attacks by Russia.
Pleitgen said the Russia-Ukraine conflict is "the most dangerous" he's ever covered.
"People need to understand that this war is a whole other level of danger than wars in the past decades," Pleitgen said.
This comes as the war is set to hit its one-year mark later this month.
CIA director William Burns on Thursday described the coming months as "absolutely crucial" and dismissed any suggestions that Russian President Vladimir Putin is prepared to engage in serious peace negotiations.
Burns said it's important to show Putin that he doesn't stand a chance of making further advances, but instead runs the risk of losing more of the territory his forces have seized from Ukraine.
"Putin, I think, is betting right now that he can make time work for him," Burns said, according to CBS. "The key is going to be on the battlefield in the next six months, it seems to us."
Related
Popular in the Community