Former President Donald Trump recently announced that he would build an "impenetrable dome" over the U.S. if re-elected — to "protect our people" from the purported threat of nuclear attacks and World War III.
"World War III would be a catastrophe unlike any other," he said in the video published on his Truth Social platform Friday. "This would make World War I and World War II like very small battles. The best way to ensure that such a conflict never happens is to be prepared with unmatched technology and unrivaled strength."
"When I am commander in chief… I will work with Congress and our great military leaders — not the ones you see on television, I don't consider them leaders," he continued." We're gonna work with them to build a state-of-the-art, next-generation missile-defense shield."
Trump then claimed "the world has become vastly more dangerous" under President Joe Biden and that any discussion of the "deadly menace" of nuclear war, as a purported result of the ongoing Russia-Ukraine conflict, has been tabled by the current administration.
"The 'nuclear' word is being mentioned all the time," said Trump. "This is a word you're not allowed to use. It was never used during the Trump administration, but now other countries are using that word against us because they have no respect for our leadership."
"America must have an impenetrable dome to protect our people," he said. "We worked with Israel to develop that dome…We have technology that's unsurpassed, but our past leaders haven't really wanted to use it…We have to now go that further step."
"Just as I rebuilt our military, especially our nuclear capabilities, I will build the shield to defend America from missile attacks," said Trump before adding. "We will have a peace through strength."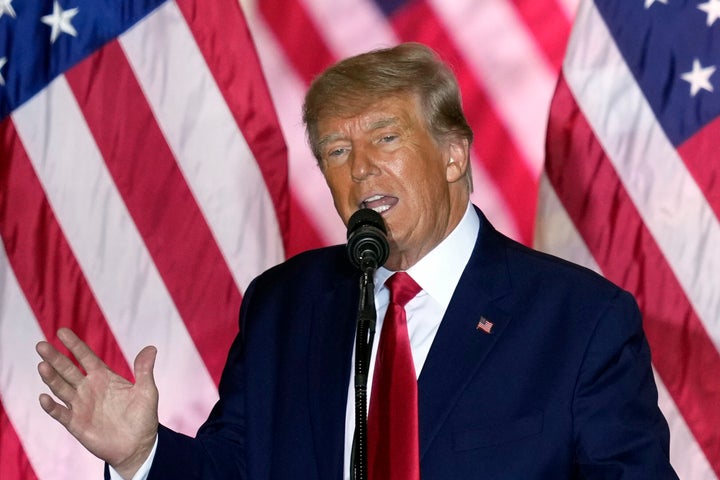 Former Russian President Dmitry Medvedev, the deputy chairman of Putin's security council, recently wrote on Telegram that "the defeat of a nuclear power in a conventional war may trigger a nuclear war," per Reuters. Putin himself echoed that notion in December.
"As for the idea that Russia wouldn't use such weapons first under any circumstances, then it means we wouldn't be able to be the second to use them either — because the possibility to do so in case of an attack on our territory would be very limited," said Putin, per CNN.
"Putin has no intention — no intention of stopping this cruel war," said Biden in December. "And the United States is committed to ensuring that the brave Ukrainian people can continue — continue to defend their country against Russian aggression as long as it takes."
Popular in the Community