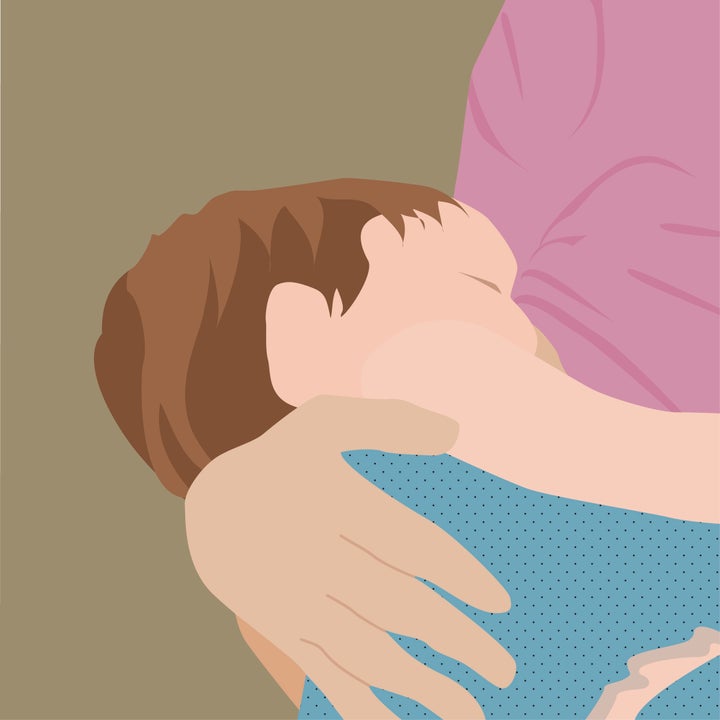 Bekki Hockman, who runs a Facebook group for non-gestational parents who wish to breastfeed, experienced a lot of pain and disappointment on her journey to motherhood.
"I had tried for over 20 years to get pregnant: miscarriages, failed IUIs, failed IVF, surgeries. Literally the entire — everything," she told HuffPost.
"One day my goddaughter came forward and said, 'When are you going to let me do this for you?'"
As Hockman's surrogate, her goddaughter got pregnant on the first try. Hockman's daughter, Mira, will be 4 years old this May — and she is still nursing.
"I always knew I wanted to breastfeed my kids. Just never thought that I would have a problem carrying," said Hockman.
The story of how she came to breastfeed Mira is one of healing, hope and determination — just like the story of Mira's conception.
During the months that Hockman awaited Mira's birth, she joined various Facebook groups for parents via surrogacy and discovered the possibility of inducing lactation. She subsequently joined the group that she now moderates, befriending then-moderator Glenis Liz-Decuir, who supported Hockman as she trained her body to produce milk.
"I was the first person in the history of my fertility clinic of over 50 years to induce lactation. They didn't even know it could be done," said Hockman.
When Mira was born via C-section, Hockman was there waiting at the hospital. Within a half hour of her birth, the infant was at Hockman's breast.
"I had been holding my breath to give it to her. And she grabbed my pinky and latched and started nursing," Hockman remembered, saying that she began weeping.
"It was that moment that it really felt real and I felt like a mom."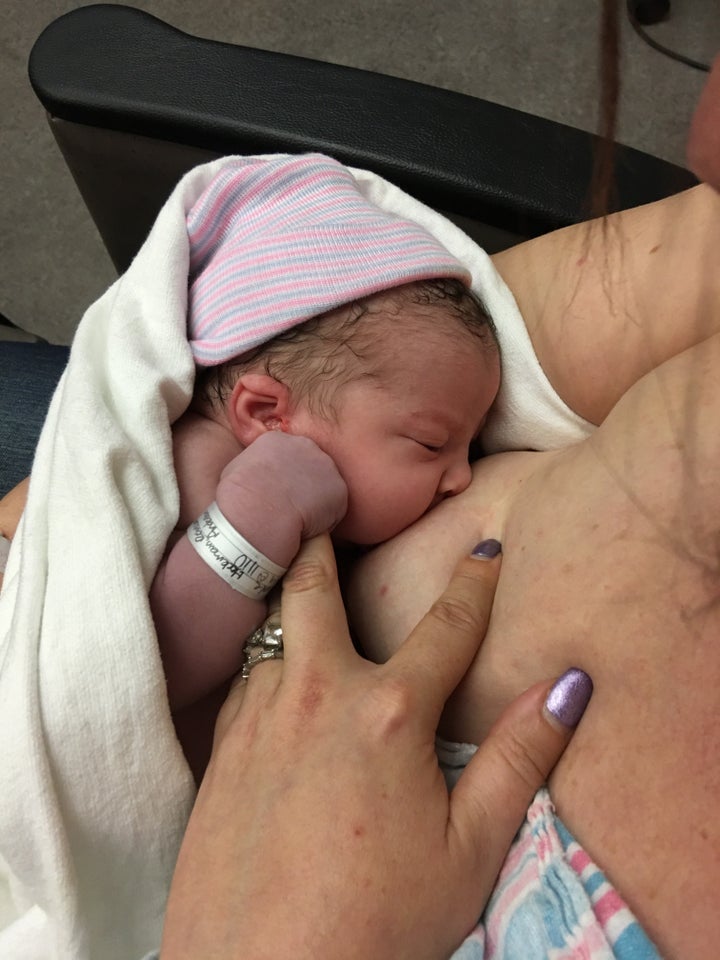 Hockman has become something of a sherpa to other parents hoping to do the same. In addition to moderating the Facebook group, Hockman's video calls with new and expectant parents are so frequent that when her husband sees her chatting with someone he simply asks, "Boobs?" and continues on his way.
One of the people Hockman has assisted is Connie Byrnes, who has been nursing her third child, a daughter, for the past seven weeks. Byrnes nursed her first two children, now ages 32 and 23, but subsequently had an emergency hysterectomy after enduring multiple pregnancy losses. Her current partner, who is 15 years younger than Byrnes, always wanted children, and the couple eventually found their own surrogate.
As the pregnancy progressed, Byrnes thought about breastfeeding and how much it had meant to her to nurse her other children.
"I felt devastated that I couldn't, but at first I was just like, it's not the end of the world. I'll feed my baby a bottle ... I'm fine," Byrnes told HuffPost.
"Then, one night, I just got thinking about it and I Googled, 'Can you breastfeed without birthing a baby?' and I found this whole world of 'Yes, it's possible.'"
How does inducing lactation work?
Lactation without childbirth can be achieved via different combinations of pumping, herbal supplements and medications. Hockman and others interviewed for this article all used the Newman-Goldfarb protocol, the most well-known method.
The protocol involves taking birth control pills and an anti-nausea medication called domperidone (which is not available in the U.S. and has to be purchased abroad). Domperidone has the side effect of increasing breast milk production, and is sometimes prescribed off-label for people who have given birth and are struggling with insufficient milk supply. Taken in the combination prescribed by the protocol, starting as early as six months before the baby's due date, these medicines mimic the hormonal shifts of pregnancy and — along with a strict pumping regimen — trigger the production of milk.
"The goal here is to bond with these miracle babies that we're getting no matter how we're getting them, whether that's adoption, surrogacy, non-birthing partner."
Starting six weeks before the baby is expected to arrive, parents using the protocol begin using a breast pump to stimulate milk production, pumping 5-7 minutes every three hours and at least once overnight — although recommendations differ depending on the circumstances. Slowly, most peoples' breasts will begin to produce drops and then sprays of milk.
Some people also use herbal supplements to increase their milk production while adhering to the Newman-Goldfarb protocol.
"It is unusual for a parent inducing lactation to produce enough milk to completely meet their baby's needs," said Alyssa Schnell, an international board-certified lactation consultant who induced lactation to feed her own adopted daughter and has gone on to support "over a thousand parents to do the same."
Why do people induce lactation?
Adoptive and surrogate parents who wish to feed their babies breast milk may decide to induce lactation. If a trans man or nonbinary person who has had top surgery carries a baby, sometimes their partner will induce lactation so the baby can nurse.
Lesbian moms and other queer couples may choose to induce lactation so that they can co-nurse and both feed the baby. When Byrnes went to her own OB-GYN during this process, in fact, "she prescribed birth control pills, and then shared with me that she actually did the protocol and is breastfeeding her child that was birthed by her wife."
Even trans women are able to make their bodies produce milk (albeit likely not in large quantities).
"It all comes down to having mammary tissue and having a functioning pituitary gland," said Hockman. "It doesn't matter if you were assigned male at birth, it doesn't matter if you have had a hysterectomy." She noted that all humans have some mammary tissue, which is why some men get breast cancer.
But the Newman-Goldfarb protocol requires an intensive commitment that most people aren't just chasing for a single-digit decrease in cancer risk. The emotional rewards of lactation are more immediate and can be intensely gratifying.
For a person whose body was unable to conceive or carry a pregnancy, being able to make milk and nurse a baby can be particularly meaningful.
"Many parents report an additional benefit to inducing lactation is a healing [of] the loss due to infertility," said Schnell.
Nursing is also a unique opportunity to bond with a child.
"We were essentially strangers on the day she was born," Byrnes said. "I worried about our bonding."
"It all went away as soon as she latched on," she remembered. "I'm like, she thinks I'm her mom. I am her mom. It made it real to me."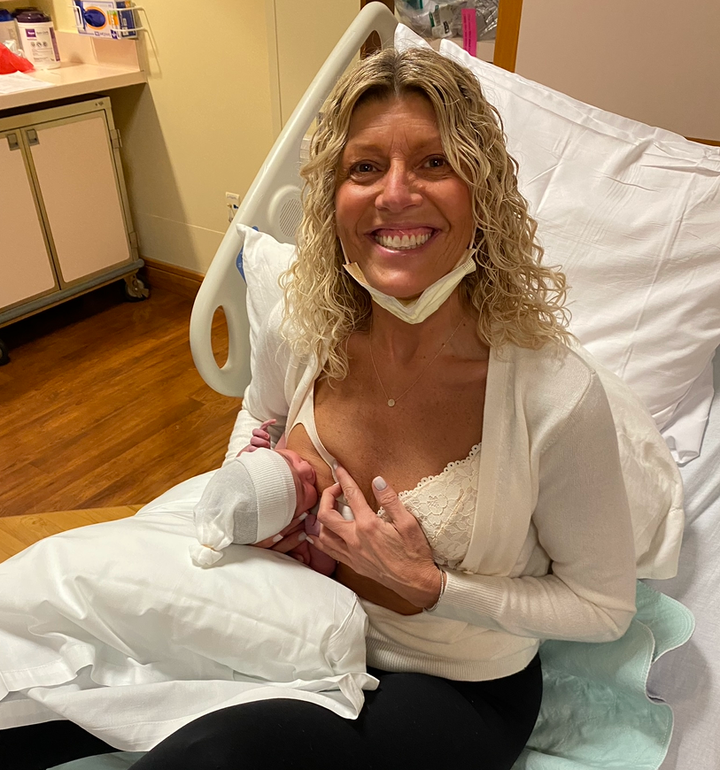 Hockman says the emotional benefits continue for the duration of the nursing relationship.
"I got to have the bonding I wanted with my child," she said. "And comfort her in a way that nobody else could."
What are the challenges of induced lactation?
For U.S.-based parents, acquiring domperidone from abroad can be a major headache. Byrnes, who lives in Massachusetts, recalled that she first put in an order with a New Zealand pharmacy. Her shipment went to Canada and then was supposedly held up in customs in New York. At one point, a pharmacy asked her to pay for the medication using Bitcoin. This all meant she got started later than she had hoped with the protocol.
She is now fully stocked and plans to continue nursing for a full year, or as long as her child desires. Currently, she nurses the baby at her breast while supplementing with donor milk using a supplemental nursing system (SNS), which involves a little tube at the nipple bringing in supplemental milk while the baby nurses. The SNS can be unwieldy and challenging to use in public.
The other big hurdle was mental, said Byrnes, seeing how little milk she was producing when she began pumping.
"All day long, every two to three hours. And then at the end of the day, you have six milliliters, eight milliliters in a tiny syringe that I'm like looking at, so proud of myself that I have that, but feeling so defeated."
Byrnes relied on the support of her local lactation consultant and Hockman, whom she describes as a "godsend."
"She's kind of carried me along this whole process ... reassuring me, success isn't measured in ounces."
This is one of Hockman's common refrains.
"I preach this all the time: The milk is secondary. I tell all of these people, 'Your worth is not measured in ounces.' That is not the goal here. The goal here is to bond with these miracle babies that we're getting no matter how we're getting them, whether that's adoption, surrogacy, non-birthing partner," said Hockman.
While all breastfeeding is work, she wants people inducing lactation to feel pride in all the extra effort they have to put in rather than disappointment in not making as much milk as they hoped for.
"We are taking these medications. We're taking the supplements, we're hooking ourselves up to a pump every couple of hours. We're getting up in the middle of the night before a baby even gets here. We're doing all of these things. Be proud of what you're doing instead of how much milk you're making," said Hockman.