When a Chinese spy balloon traversed the United States, Sen. J.D. Vance (R-Ohio) posed for a photo pointing a rifle up at the sky.
And when a train derailment last month contaminated the air and water in East Palestine, Ohio, the new Republican senator stuck a stick down in a creek, revealing an unnatural oily sheen.
In both cases, Vance showed a knack for one of a U.S. senator's most important duties: appearing to do something.
But on Wednesday, Vance followed through with actual legislation, partnering with Sen. Sherrod Brown (D-Ohio) on a bipartisan bill slapping new safety requirements on the freight rail industry.
"Through this legislation, Congress has a real opportunity to ensure that what happened in East Palestine will never happen again," Vance said in a press release accompanying the bill. "We owe every American the peace of mind that their community is protected from a catastrophe of this kind."
The former Marine, venture capitalist and memoirist landed in the Senate this year, displacing Sen. Josh Hawley (R-Mo.) as the chamber's youngest up-and-coming populist Republican.
These new Republicans practice the same white identity politics that their party has used since the civil rights movement, but they have shown more interest in curtailing corporate power than Republicans typically do.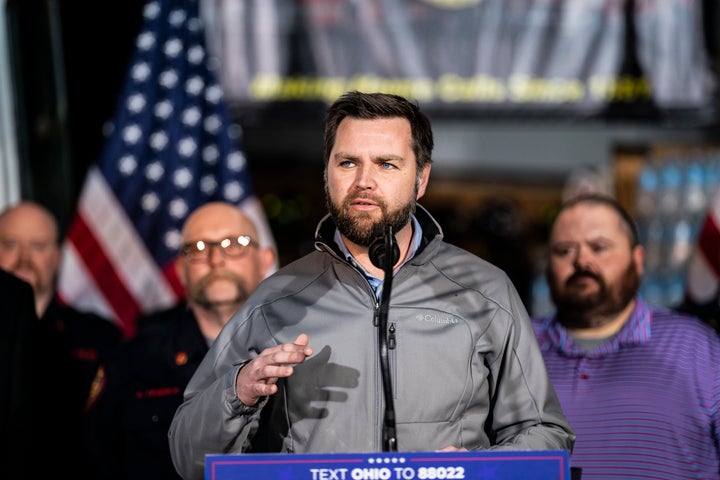 Vance's reaction to the derailment displayed both tendencies. In the aftermath he proclaimed that he, Donald Trump and Fox News host Tucker Carlson had realized that the village of fewer than 5,000 residents, most of whom voted for Trump, was exactly their constituency.
"The three of us, in our own ways, recognized instantly: This is fundamentally our voters, right?" Vance told Axios. "These are sort of our people. It's a reasonably rural community. It's been affected by industrialization."
Carlson had emphasized to his millions of viewers that East Palestine's population is "overwhelmingly white" and suggested a similar disaster in Philadelphia or Detroit would have received much more attention from the government and the media.
"If this affected the rich or the favored poor, it would be the lead of every news channel in the world," Carlson said on his show last month, "but it happened to the poor benighted town of East Palestine, Ohio, whose people are forgotten and in the view of the people who lead this country, forgettable."
The conservative writer Sohrab Ahmari praised the letter as a rejection of free market neoliberalism. "Rubio and Vance are making an important break with not just the establishment GOP — but even many of their fellow populists, who complain about corporate power and then turn around and lament the rise of the modern administrative state," Ahmari wrote last week.
The bipartisan rail response stands in stark contrast to the reaction to last year's baby formula contamination scandal. Food and Drug Administration inspectors found unsanitary conditions at an Abbott Laboratories plant in Michigan, which produced formula that may have sickened several babies. Republicans complained less about the contaminated plant than about the FDA not letting it reopen fast enough.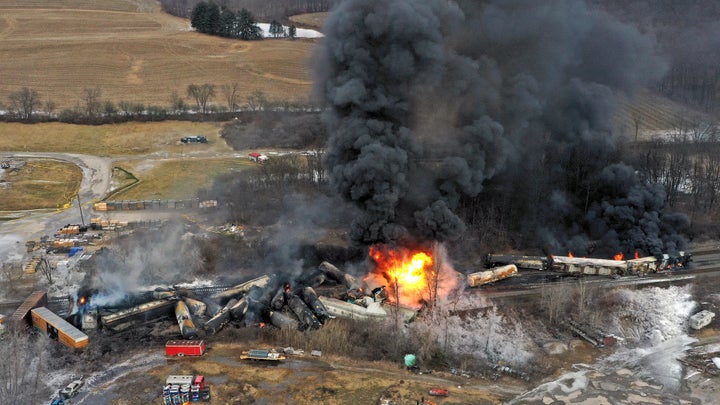 Vance told HuffPost on Tuesday, in response to a question about his letter to Shaw, that Norfolk Southern should pay for its mistake.
"I think it's pretty straightforward: They cause a disaster, they have to reimburse the residents of the town," Vance said. "I don't think that requires an act of Congress. I just think that requires Norfolk Southern to do their job."
The new rail legislation, introduced Wednesday by Vance, Brown, Rubio and Hawley, along with Pennsylvania Democratic Sens. John Fetterman and Bob Casey, would create new safety requirements for all trains carrying hazardous materials, require trains to have crews of at least two people, and massively increase penalties for safety violations.
Brown praised Vance's response to the derailment on Tuesday.
"I can't say we're partners yet because we don't know each other that well, but we are working together on this," Brown told HuffPost. "He's been there a number of times, he's talked to the same people I've talked to."
It's unclear whether the Vance-Brown "Railway Safety Act of 2023" could make it through both the Senate and the Republican-controlled House, but there's no doubt its bipartisan backing gives it a better chance than most bills.
Senate Majority Leader Chuck Schumer (D-N.Y.) on Wednesday said he would work to get the bill passed, calling the measure "precisely the kind of proposal we need to see in Congress: a bipartisan rail safety bill, one that includes provisions relevant to the accident that happened a month ago."
In the meantime, Vance is also getting rave reviews for his efforts to draw attention to the disastrous derailment.
"When you jabbed that stick into that body of water and it turned every color of the rainbow, millions of people saw that video," Fox Host Jesse Waters said during an interview with Vance this week. "I was personally moved by that. The whole country was."
Popular in the Community