Vice President Kamala Harris took the podium at Tyre Nichols' funeral on Wednesday and condemned the actions of the Memphis police officers who beat him days before his death.
"This is a family that lost their son and their brother through an act of violence at the hands and the feet of people who had been charged with keeping them safe," Harris said after being introduced by the Rev. Al Sharpton, who delivered Nichols' eulogy at Memphis' Mississippi Boulevard Christian Church.
"When I think about the courage and the strength of this family, I think it demands that we speak truth," she continued. "And with this, I will say: This violent act was not in pursuit of public safety."
Five officers have been charged with murdering Nichols. Police pulled over the 29-year-old Black man on Jan. 7 and proceeded to beat him and douse him in pepper spray as he screamed for help, body camera footage showed.
A bruised and bloodied Nichols died in the hospital three days later.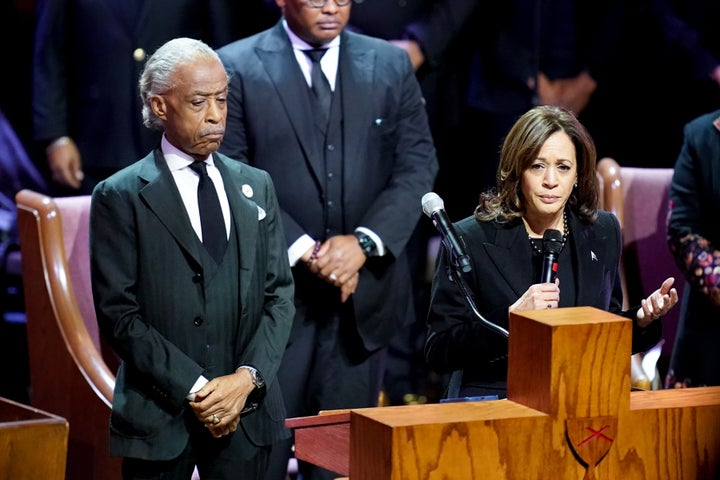 "Was he not also entitled to the right to be safe?" Harris asked of Nichols, a father of one. "So when we talk about public safety, let us understand what it means in its truest form: Tyre Nichols should have been safe."
The Shelby County District Attorney's office said earlier this week it's still investigating the events that led up to Nichols' death and may proceed with more charges. The office is looking into additional police and fire department personnel who interacted with Nichols the night of his traffic stop ― some of whom have already been fired from their jobs.
"Our goal remains the same: to seek justice for Tyre Nichols and hold all who contributed to his death accountable," the district attorney's office said in a statement Monday. "We ask for the public's patience as the investigation continues."
Harris also demanded Wednesday that Congress pass the George Floyd Justice in Policing Act ― named for another victim of police brutality ― that contains several dramatic policing reforms aimed at combatting police misconduct, eliminating excessive force and fighting racial bias. It passed in the House in 2021 but did not make it through the Senate.
Popular in the Community