Former first lady Laura Bush's traditional views apparently made for an uncomfortable moment ahead of daughter Jenna Bush Hager's wedding day.
On Thursday's episode of "Today," Bush Hager ventured into TMI territory by recounting a conversation she had with her mom and her sister, Barbara Pierce Bush, the night before her nuptials with Henry Chase Hager in 2008.
At a pre-ceremony sleepover, the wife of then-Republican President George W. Bush just couldn't hide her old-fashioned mindset, according to the morning show host.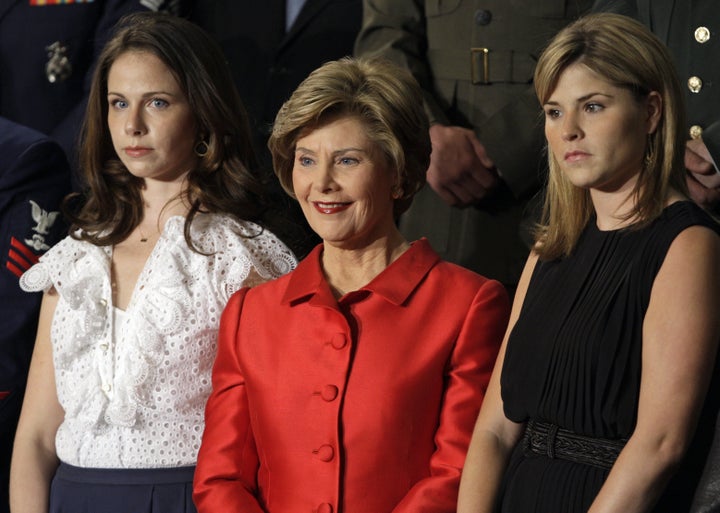 "My mom came in [singing]: 'You're getting married! Let's go change the sheets!'" Bush Hager recalled.
The outmoded allusion to wedding night virginity had her daughters screaming.
"Barbara goes: 'Eww gross, Mom! This isn't 'The Other Boleyn Girl'!" Bush Hager remembered, referring to the 2008 film about sisters battling for 16th-century monarch Henry VIII's love.
Whatever came next was too cringe-inducing for the TV personality to reveal.
"I won't even say what she said after that," Bush Hager laughed.
Though the NBC host may not have wanted to dwell on her mom's comments, the star has always shown a sense of humor about her sex life.
Last month, she joked on "Today" about the challenge of trying "save" her virginity when she was a teen.
Bush Hager giggled at the time as she told guest Amy Poehler, "I was just worried in ninth grade that I wouldn't have the wherewithal to hold it, you know?"
Popular in the Community