The Associated Press reports Luis Rubiales, the president of Spain's soccer federation, will resign from his role after facing heavy criticism for kissing Jennifer Hermoso, a player from the World Cup champion women's national team, in an interaction she says was nonconsensual.
Rubiales' much-demanded departure comes after the Spanish government launched proceedings to oust him, after federal prosecutors opened an investigation into the kiss as "an alleged crime of sexual aggression" and after FIFA, the international governing body for soccer, suspended him from all of its activities for 90 days, blocking him from participating in upcoming votes to determine World Cup host countries.
Rubiales has been steadfast in his claims that he did nothing wrong when he kissed Hermoso on the lips during the team's medal ceremony in Sydney. At an emergency meeting of the General Assembly of the Spanish Football Federation last month, he said he would not resign and that he was being attacked by "false feminists."
Rubiales' refusal to step down posed a major threat to Spain's soccer business. All 22 players on the team, along with more than 50 other Spanish soccer players, said they would no longer play for Spain if Rubiales remained in his position.
In response to the outrage, Rubiales insisted that Hermoso had "lifted me up" in celebration of the team's win and that he had asked her for "a little kiss," to which she "said yes." However, video of the moment shows both his feet on the ground before he kissed Hermoso, contradicting at least part of his story.
He sang a different tune when criticism first started swirling about the kiss, saying "I have to apologize" and "Probably I made a mistake."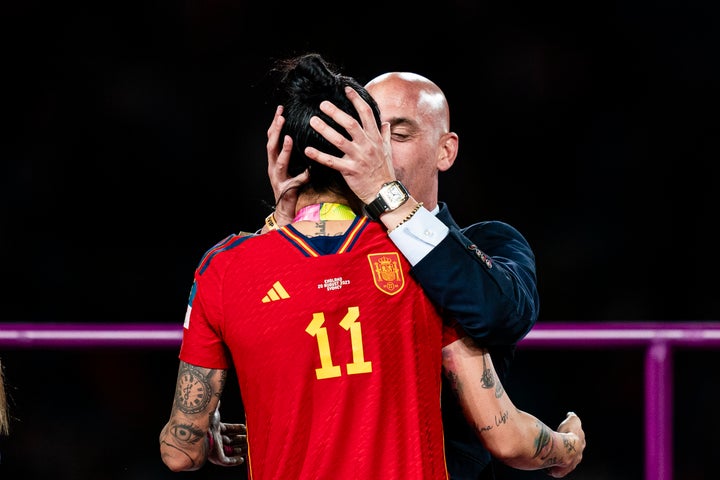 Following Spain's win, Hermoso said on an Instagram Live that she "didn't like" what Rubiales did. But a statement the Spanish Football Federation put out shortly afterward quoted her as saying that "it was a natural gesture of affection and gratitude."
In a subsequent statement from Hermoso, this time put out through her players union, she maintained that Rubiales was lying about what happened.
"I won't tolerate anyone putting in doubt my word and even more so that anyone invents words that I did not say," she said in the statement.
She reiterated her stance days later, saying in a written statement: "I felt vulnerable and a victim of an impulse-driven, sexist, out of place act without any consent on my part."
However, the largely male audience at last month's assembly applauded him when he said he wouldn't resign, The Associated Press reported. Among those expressing support for Rubiales were women's national team coach Jorge Vilda and men's national team coach Luis de la Fuente.
Rubiales' mother, Ángeles Béjar, has also been a steadfast supporter of his. She was hospitalized in late August after locking herself in a church and declaring a hunger strike until there was an end to the "inhumane hounding" of her son.
Support HuffPost
The Stakes Have Never Been Higher
Popular in the Community