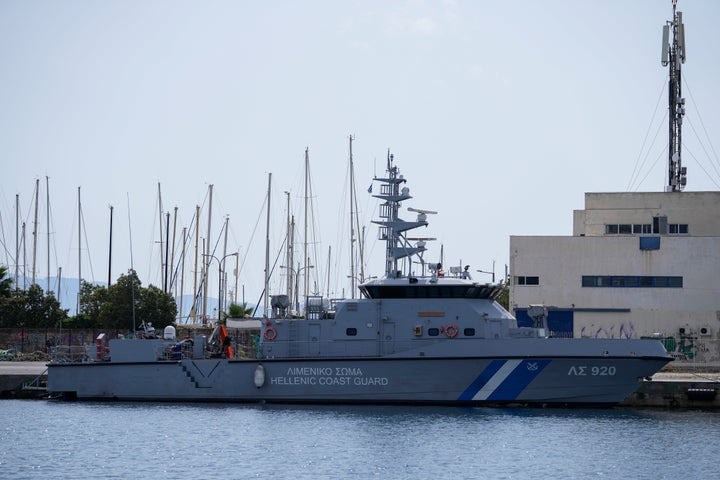 ATHENS, Greece (AP) — A Greek news website has published excerpts from the depositions of two survivors of Wednesday's deadly shipwreck off southwestern Greece, in which more than 500 people are feared drowned after an overcrowded boat carrying as many as 750 migrants went down in international waters.
Passengers on the ill-fated trawler had to subsist on meager supplies of food and water which ran out several hours before the disaster, two survivors have reportedly testified.
News website kathimerini.gr, which is run by Greek newspaper Kathimerini, has published excerpts from the depositions of two survivors, 23-year-old Hassan, from Syria, and 24-year-old Rana, from Pakistan. The two men are referred to only by their first names.
Hassan, who was traveling alone, recounted that, during the four-day voyage from Libya, they were given "minimal food and dirty water" which had run out by Tuesday morning, when the hungry and thirsty passengers started complaining.
According to Hassan, among the 700 passengers he estimated were on the boat, about 15, including the captain, were working for the people traffickers who organized the crossing. They were the only ones who could move around the boat. Hassan, who had initially been placed below deck, had to pay 10 euros to one of the 15 to move him up to the deck because he was finding it hard to breathe.
Hassan told the Greek authorities he and other passengers believed the captain had lost his way and could not get to Italy, and that it was only after their complaints that the captain called for help on his satellite phone, late on Tuesday night.
Hassan said that, when the Greek coast vessel arrived during the night, the trawler suddenly capsized and he found himself in the water. The Greek coast guard rescued him and others, he said, lifting them into an inflatable boat.
Two or three other ships came during the night — it was early Wednesday by then — and helped. The survivors, none of whom were wearing lifejackets, were taken to the port of Kalamata, where they were given water, Hassan said. Shown pictures of the survivors, he identified seven as working for the traffickers. Greek authorities have so far arrested nine individuals suspected on taking part in trafficking.
In all, 104 survivors were rescued and 78 bodies retrieved, all on Wednesday. If the estimates of 700-750 migrants on board are accurate, more than 500 people are missing, and the chances that anyone else will be found alive are rapidly diminishing.
Rana, the Pakistani citizen, testified that he lost his wife and children in the shipwreck: the excerpts on kathimerini.gr do not mention the number of children.
Rana testified that the trawler departed Libya early Friday, June 9. After three days at sea, the engine stopped and one of the crew repaired it repeatedly, but the engine malfunctioned several times.
Rana claimed that, on Tuesday, hours before the accident, some of the Egyptian passengers asked a passing commercial ship for water. Its crew threw them some bottles, but, Rana said, the Egyptians took it all and a fight broke out with other passengers, who finally got to share the water. Then, he said, the engine started working again and the trawler resumed its journey but was forced to stop again after about half an hour. Rana was on his knees, afraid and praying. The crew shut the engine down, Rana claimed, so that ships passing by could not hear it.
Suddenly, he said, the boat started listing on one side and taking on water. In the ensuing panic, many rushed to the opposite side and it was then that the boat capsized. Rana jumped into the sea and, despite not knowing how to swim, stayed afloat for a few minutes until a "large ship" retrieved him. His wife and children, confined to a cabin, were not so lucky.
Both men described in detail how they ended up on the boat. Hassan was living in a suburb of the Syrian capital Damascus, where he had returned after working for three years in Lebanon.
Hoping to go to Germany, he flew first to Libya, where he worked in low-paid jobs for 40 days, before being taken by the traffickers to a series of "refuges," the last of which housed 300 people.
On Friday, June 9, a truck took them to a port, where smaller boats ferried them to the trawler, which Hassan described as old and rusty. His father had given $4,500 to a middleman who would then pay the traffickers upon Hassan's arrival in Italy.
Rana said he had paid $8,000 to a fellow Pakistani in Libya. His brother, who lives in Italy and had arranged the payment, would hand over the rest of the money for his crossing, Rana did not know how much, upon his arrival in Italy.
Rana was given back $2,000 of the $8,000 he paid to give to a person in Libya, the brother of the man he had paid. Rana said that his compatriot who lived in Libya was the owner of the trawler.
Rana and his family reached Libya via Dubai and Egypt before being taken by car to a series of refuges in a journey lasting almost a month, ending up at Tobruk, Libya.
Support HuffPost
The Stakes Have Never Been Higher
Popular in the Community