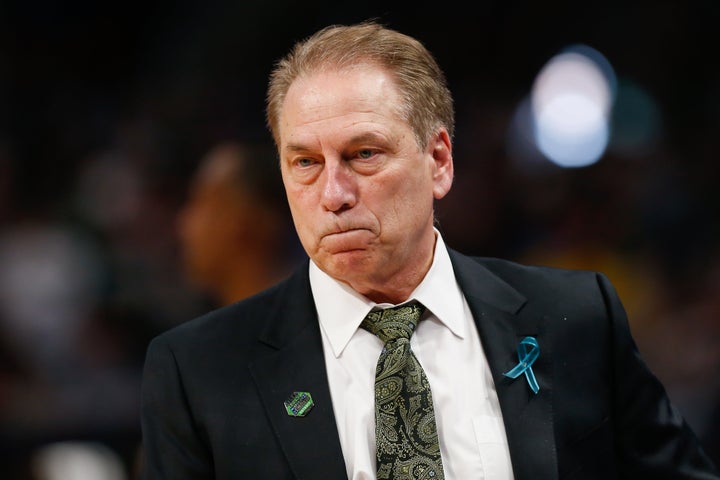 Two weeks before the start of March Madness, Tom Izzo, the men's head basketball coach at Michigan State University, was in a small media scrum in the gym after his team's practice. Tired from the media scrutiny surrounding his program, he issued a stern directive to the reporters gathered around him: Going into the Big 10 tournament and the NCAA postseason, his players would only be answering basketball questions.
"I tried to do it as best as I could for all of you," Izzo said to the gathered media. "Never cut off my locker room or anything else. But now, it's going to be basketball time. These players, this staff, deserves to focus in on basketball." No more "distractions."
The media scrutiny resulted from Yahoo's reporting on an FBI investigation into NCAA rule violations regarding paying players but, more so, from the many months of reporting about the failures at MSU to adequately respond to reports of sexual harassment and violence, including in Izzo's basketball program and the school's football program.
Izzo became the de facto spokesperson for the school, since his season was ongoing as national attention focused on the sentencing of Larry Nassar, the former USA Gymnastics doctor and MSU physician who sexually abused hundreds of athletes across multiple decades. As Izzo held press conferences after games, he sort of answered questions about sexual assault issues, sometimes sounding exhausted from it all.
"It is a truly exhausting thing, this abusive, misogynistic culture. But imagine being the victim and being ignored for weeks, months or even decades."
But that's the point. It is a truly exhausting thing, this deeply embedded misogynistic culture, one that is violently so. It wears you out, having to think about it, question it and answer for it over and over again. But imagine being the victim of this abusive culture and being ignored or disbelieved for weeks, months, years or even decades (there are so many who don't have to imagine this, of course, because they have lived it). It's an exhaustion the students and staff at Michigan State know all too well.
A current MSU student says three of the university's basketball players raped her in 2015 and that when she told this to a school counselor, she was coerced into not reporting it to authorities. The school (which in responding to a lawsuit by the student may have broken privacy laws) says no one in the athletic department knew of her allegation.
That lawsuit came three days after news broke that a walk-on on the basketball team had been arrested and charged "with misdemeanor assault after a criminal sexual conduct investigation" (Outside the Lines reported that a woman had reported the player for groping her in a residence hall).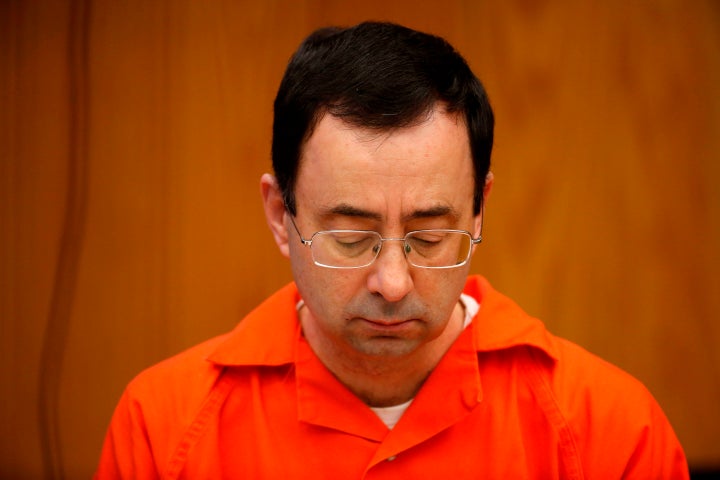 Also, there's Nassar's boss at MSU, Dr. William Strampel, the former dean of the school's College of Osteopathic Medicine who was charged in late March with felony misconduct in office and fourth-degree criminal sexual conduct. Four former female medical students told investigators that Strampel either sexually harassed or sexually assaulted them.
And then there's the debacle of the interim president John Engler ― he's serving in that capacity because the former president, Lou Anna K. Simon, resigned under heavy pressure because of administrative failures spotlighted by the Nassar case. A Nassar victim, Kaylee Lorincz, 18, said during public comments at last week's MSU board of trustees meeting that Engler offered her a $250,000 settlement so that she'd drop her lawsuit against the school. Engler has responded that his recollection of what transpired at a meeting with Lorincz is "different than hers."
But Engler, the state's former Republican governor, has a questionable record dealing with reports of sexual assault, which makes his MSU appointment curious and concerning unless the point was to hire someone who would protect the school at all costs.
Local reporting on the MSU scandal remains stellar ― especially by The Lansing State Journal, Detroit Free Press, and Michigan public radio ― and national outlets like ESPN's "Outside the Lines" and ThinkProgress continue to cover it, but who can keep up with all this?
If we have learned one thing from student activism around campus assault over the last five years or the stories that have poured out as a result of the #MeToo Movement, it should be how common sexual harassment and gendered violence is. The flipside of the sheer volume of reports is that we miss so many of them. Or if we do catch them, they show up as blips on our media landscape.
Sex harassment and assault happen so frequently, we are barely stopping the news cycle long enough to be outraged by them, even if we all agree they are worthy of our outrage.
"I know these cases are emotionally exhausting but we need to plan for the long haul. We are all going to be carrying a lot of weight if we are ever to change this culture."
Trust me when I write that I know these cases are emotionally exhausting. The weight of simply holding them can be unmanageable at times. But we need to all go to the gym, work out our shoulders, back and emotional core, and plan for the long haul here. We are all going to be carrying a lot of weight if we are ever to change this culture we have created and maintained.
Many sexual assault victims already carry a larger burden than their share. But for the rest of us, especially for people like Izzo who have power and purchase in their communities, we must keep up with these stories. We must see them not as individual moments but as cultures that must be exposed and forced to change. We, the public, must pay attention and bear witness to them all, as we did for Nassar's victims during his sentencing hearing. We must find ways to overcome our emotional exhaustion with it.
There is one guaranteed way to cut down on the "distractions," to end the frustration, and to get rid of the exhaustion: start fixing the problems right now, today. This is long-term work. The stories will not stop because the harm will not. If it's not your school today, it probably will be your school soon; maybe not your university, but perhaps your local high school, the company you work for, or the church you attend. The only way forward is to continue to expose and talk about our culture of sexual assault, no matter how fatiguing that may be.
Jessica Luther is a freelance journalist, author and co-host of the feminist sports podcast "Burn It All Down."
Support HuffPost
The Stakes Have Never Been Higher
Related
Popular in the Community