Social media gets lots of press, but social commerce has been pretty much ignored. Why is that — and why does it matter in the world that connected people to products?
Let's start with a definition.
Social commerce is simply the ability to buy things from a third-party company within a social media context — buying from friend recommendations.
For example, you can check out products on a Facebook post and then complete the transaction rather than having to go to the company's site to buy what you want.
Today two sites own the social commerce space: Facebook and Pinterest. Twitter has come and gone — for now.
But that's just the beginning.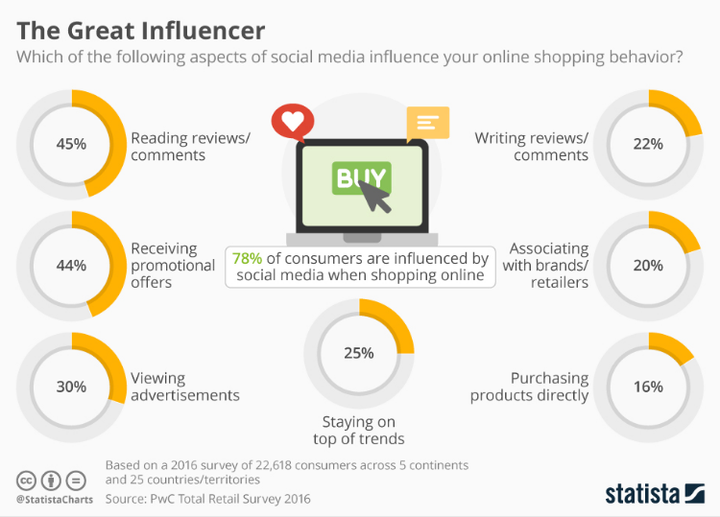 Last year, PwC conducted a global survey of nearly 23,000 people and found that 78% of consumers are influenced by social media when shopping online. The chart above shows above how social media is affecting online shopping actions.
Facebook: With a Facebook store, you can upload products and product information, customize your shop's product offerings, sell directly from your page, manage orders, run a Facebook ad to promote one of your products and get insights. Which is to say, you can create an end-to-end commerce experience with advertising, customer feedback, and fulfillment.
Pinterest: Pinterest released buyable pins in June 2015. You can select "Buy It" and make a purchase right then and there with either Apple Pay or credit card.
Then Pinterest added a feature called "Shop the Look" that allows users to click on photos to buy one item, and then check out similar items that are also for sale.
Pinterest has worked with a number of major retailers including Macy's, Nordstrom, Bloomingdale's, and Wayfair.
Heidi Cohen of Actionable Marketing Guide told ConversionXL: "While shopping is essentially a social experience — think girls shopping at the local mall — online shopping is distinctly not social. Yet, regardless of where the purchase is made, many shopping decisions involve more than one individual's input, be it a couple, parent and child, or friends."
Shopping is a social experience. You buy things for other people. You buy things to enhance your personal style. You reach out to friends to say: "How does this look on me?"
According to Marketing Week, the "social commerce boom" is being fueled by young mobile consumers. Thirty-three percent of 18- to 24-year-olds say they would purchase items directly on Facebook, 27 percent on Instagram and 20 percent on Twitter. For 25- to 34-year-olds, the numbers decrease a bit: 30 percent on Facebook. For 54- to 65-years-olds, it's 10 percent.
Here's what we know for sure: social commerce is a nascent market. It encompasses a bunch of different experiences including friend endorsements, social shopping and group buying. Using your social graph to gain wisdom, feedback, and endorsements is a powerful and growing trend.
As consumers become more comfortable using their phones to be both be the center of social life, and the center of commerce discovery and purchase life, that powerful and almost inevitable convergence will change shopping forever.
Support HuffPost
The Stakes Have Never Been Higher
Related
Popular in the Community