The Los Angeles Dodgers announced Wednesday that they have dropped The Sisters of Perpetual Indulgence charity from the team's LGBTQ+ Pride Night after conservative protests.
The group, which uses drag and humor to fight intolerance around the world, will no longer be honored with a Community Hero Award at the June 16 festivities before the Dodgers play the San Francisco Giants at Dodger Stadium.
The organization says on its website that it's made up of "queer and trans nuns" who "believe all people have a right to express their unique joy and beauty." The group made its first appearance in San Francisco in 1979.
"Given the strong feelings of people who have been offended by the sisters' inclusion in our evening, and in an effort not to distract from the great benefits that we have seen over the years of Pride Night, we are deciding to remove them from this year's group of honorees," the Dodgers said in a statement on Wednesday.
Perpetual Indulgence's Sister Roma, aka Michael Williams, fired back at the team on Twitter:
"So disappointing to see the @Dodgers cave to the conservative pseudo-Christian homophobes. This weaponizing of religion is exactly what the @LADragnuns aand @SFSisters have been protesting for decades."
The group blamed Sen. Marco Rubio (R-Fla.) for igniting the conservative backlash, according to an NBC affiliate.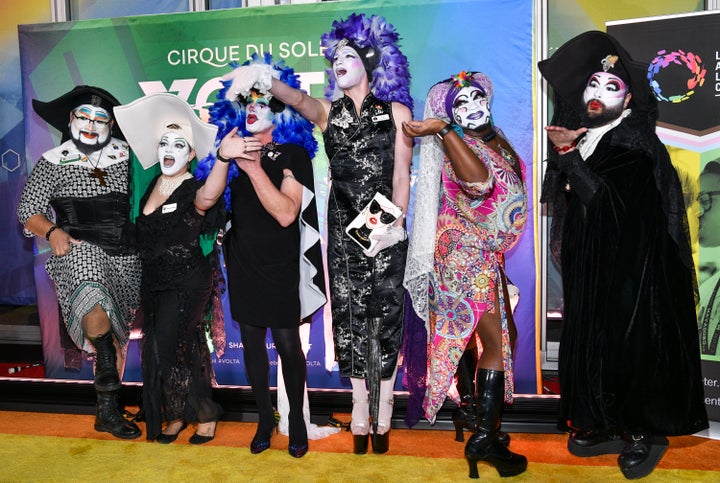 "Baseball has always been tied to our nation's values, at the heart of which is faith in God," Rubio wrote in a letter to MLB Commissioner Rob Manfred. "It would be an outrage and a tragedy if the MLB, in pursuit of modern, secular, and indeed anti-religious 'values,' rebuked that faith and the millions of believing fans who cherish the sport."
Some Catholic figures supported the team's reversal.
CatholicVote President Brian Burch had urged the Dodgers to "retract their invite to this disgusting, offensive and dangerous hate group" in a statement to Fox News.
"Justice was done in the end," Catholic League President Bill Donohue wrote. "There is no room for anti-Catholic bigotry in any gay or trans celebratory event."
Pride celebrations have been undermined in other sports as well. At least seven NHL players declined to wear rainbow-colored Pride jerseys on their teams' pride night, The Associated Press reported.
"It's definitely fair to say that this political landscape is helping to sort of normalize people for opting out of the optional ways that they have been asked to show support for marginalized members of society," Hudson Taylor, executive director of the inclusivity group Athlete Ally, told AP.
Popular in the Community