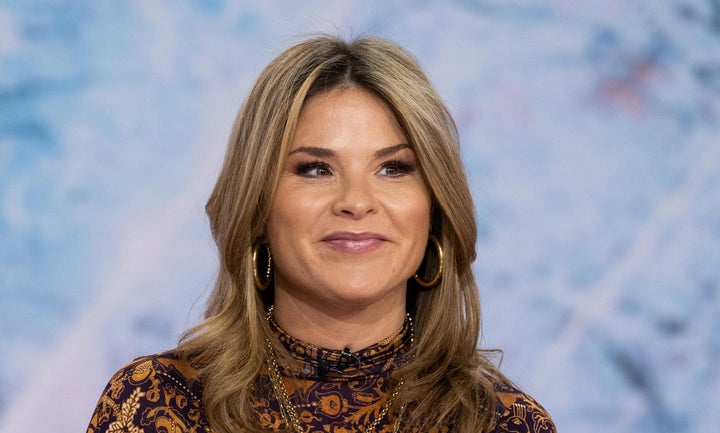 Jenna Bush Hager got personal in telling a story about how criticism of a person's body can have lasting negative effects.
On Wednesday, Bush Hager and her "Today" co-host Hoda Kotb discussed Ariana Grande's recent response to social media users' unsolicited comments about her appearance. The singer got vulnerable talking about a difficult time in her life, telling fans in a TikTok video: "The body that you've been comparing my current body to was the unhealthiest version of my body."
Kotb and Bush Hager talked about how it's common for people to judge the bodies of others, and how damaging it can be, "even if you do it with good intention."
"It's so interesting, because people do hit you right where it hurts," Bush Hager, a daughter of former President George W. Bush, said. "I had a boyfriend in seventh grade that broke up with me after we went swimming together, after he saw me in a bathing suit."
"I feel like even sometimes now, when I feel great — I have three kids, three C-sections, I feel really in my body and I think of it as a beautiful thing — I'll walk in a pool and have a moment," she said.
There's a growing awareness that commenting on someone's body is never a good idea — even if the comments are intended to be positive, like praising someone for weight loss.
"You're saying this person's previous body was not worthy as [it was]," Toni Wilson, a social worker and fat acceptance activist, told HuffPost in 2021. "You're connecting beauty and worthiness to skinniness, you are saying fatness is less-than and something to get rid of."
In 2017, Shonda Rhimes was strikingly open about how damaging it was to receive praise for losing weight. The screenwriter and producer said she felt as if people finally "saw me as a person" after she lost 150 pounds.
"What the hell did they see me as before? How invisible was I to them then?" Rhimes wrote in her "Shondaland" newsletter. "What value did they put on my presence at a party, a lunch, a discussion?"
Lena Dunham, who received criticism in 2021 for regaining weight she'd previously lost, made it clear in an Instagram post at the time that she was unhealthy and struggling with addiction when she was at her thinnest.
Jonah Hill has also expressed that hearing people talk about his 2021 weight loss was "unhelpful."
"I know you mean well but I kindly ask that you not comment on my body," the actor wrote on Instagram. "Good or bad I want to politely let you know it's not helpful and doesn't feel good. Much respect."
Support HuffPost
The Stakes Have Never Been Higher
Popular in the Community